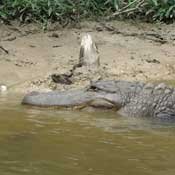 El Guapo, who lives in the 250-square-mile Honey Island Swamp, is more than 15 feet long.
Stories this photo appears in:
Culture
This past weekend, I traveled with my son's Cub Scout troop to Louisiana for a tour of the Honey Island Swamp. As cliché as the phrase is, it doesn't stop ...