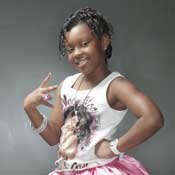 Alysyia Terry, aka Noo Noo, is a 10-year old rapper who values education and her role model status.
Stories this photo appears in:
Music
When talking about the big names in rap today, you'll hear names like Jay-Z, T.I. or Lil' Wayne. Rap is a male-dominated genre, and it isn't often that ladies get ...