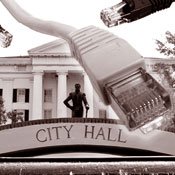 Stories this photo appears in:
The Jackson City Council yesterday approved the purchase of two software packages that will allow citizens to make and track complaints and requests related to city services online. The two ...
Jackson doesn't have a reputation for being a particularly tech-savvy place, but this fall, city government will begin changing that image. City hall is poised to adopt two new technologies ...