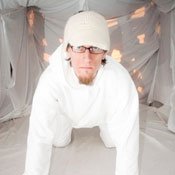 daniel johnson (pictured) created and is the lead in "mr muddle's Song and Danceaganza" at Millsaps College's Lewis Art Gallery Dec. 4.
Stories this photo appears in:
Art
News footage from the last nine months fills a television screen with quick cuts from image to image. A dancer moves across the stage in curious confusion. A figure in ...