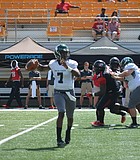 People
Compounding problems for the Delta State University Statesmen in the 2018 season was senior quarterback Breck Ruddick's injury in the second game, which forced Delta State to turn to true ...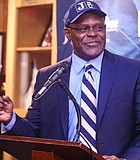 Education
Jackson State University has fired football coach Tony Hughes after less than three seasons.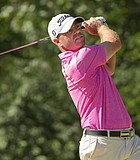 Person of the Day
Ryan Armour's attempt at winning back-to-back Sanderson Farms Championships will involve fighting fatigue as much as what the golf course throws his way.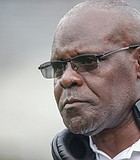 Person of the Day
Tony Hughes has not found a quick fix for the Jackson State University football program since becoming the 19th head coach in school history in December 2015.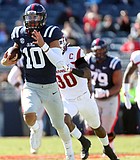 Person of the Day
Jordan Ta'amu might have only started 12 games under center for Mississippi, but he's helped guide one of the top offenses in the country during that stretch.
Person of the Day
The Braves needed to find another running back to give the team the same results on offense this season. Junior college transfer De'Shawn Waller is starting to become that complement ...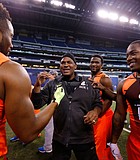 Person of the Day
Football talent runs deep in the Montgomery family of Greenville, Miss. While some football fans would not consider Wilbert Montgomery to be the most talented brother, he is without a ...
Person of the Day
In three games this season, Abraham has completed 77 of 107 passes for 1,048 yards with 10 touchdowns and three interceptions. He has a 72-percent pass completion rates, and he ...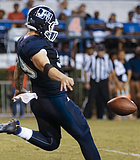 Person of the Day
Before coming to Jackson State University, senior kicker Christian Jacquemin went to Coral Reef High School in Miami, where he played soccer before his high-school coach encouraged him to try ...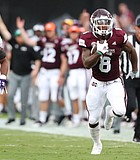 Person of the Day
A new coaching staff at Mississippi State University offered a fresh start for sophomore running back Kylin Hill.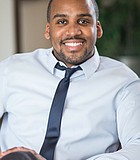 Civil Rights
For #BlackGirlMagic in the form of Serena and Naomi to dominate a sport meant for the white upper class is to rage against the mayo-flavored patriarchal machine.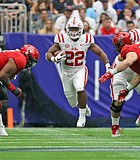 Person of the Day
University of Mississippi running back Scottie Phillips proved his ranking against the Texas Tech Red Raiders, running his way into the school record book.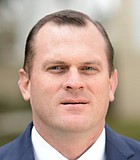 Sports
When head coach Hal Mumme left to become offensive coordinator at Jackson State University, Belhaven University needed to find a new leader for its football program. The Blazers found one ...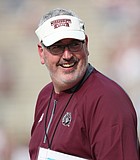 Person of the Day
One of the biggest reasons Joe Moorhead was hired at Mississippi State was his reputation for building offenses that can score points in a hurry. It took exactly one play ...
Person of the Day
The pressure of starting the season for Mississippi State University will fall to sophomore quarterback Keytaon Thompson.