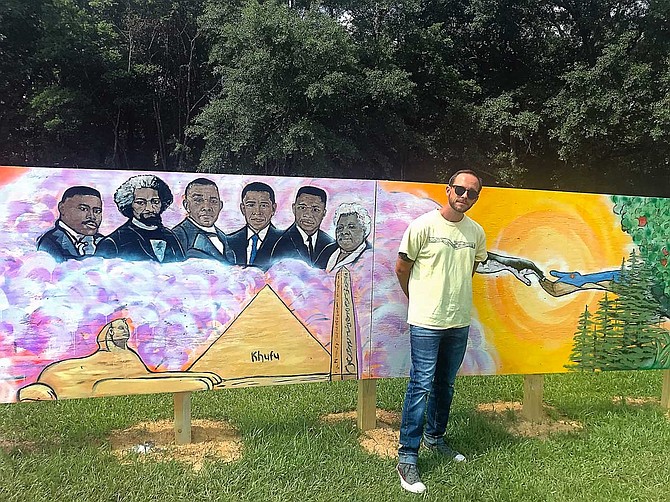 Between the age of 6 and 7, Eli Childers lived in an apartment complex in Mobile, Ala., with his father and stepmother. The complex had a lot of trash everywhere. After moving to Jackson in 1998, he lived off Mason Boulevard in south Jackson.
By then the white and economic flight motivated by the 1970 forced integration of public schools had left many buildings abandoned or dilapidated and many businesses closed. Childers is aware of the effects growing up in blight can have on a person's mindset, he says now.
"Living in those areas and growing up in those environments makes you hard to the world. It affected me in a life-experience kind of way and seeing the world for how it truly is," Childers told the Jackson Free Press.
Using his passion and love for art, the full-time artist has come full circle by designing and painting a mural for Wilkins Elementary School on Castle Hill Drive. The colorful depiction of black heroes, which he finished on May 14, means the neighborhood now has a speck of beauty that decorates the back fence of Wilkins' playground, even amid nearby blight.
"For me this is like homecoming in a way. These issues are really close to home," Childers said.
The mural is a part of J.A.B.E.Z., a beautification project headed by Martha Alexander, chief executive officer of Leadership Next Generation Plus. The nonprofit partnered with Keep Jackson Beautiful to help erase blight around the city.
Alexander said the playground was so bad that the principal didn't allow the students to play on it. "We try to shield them as much from the blight as we can. So ... (the) artwork becomes an intervention strategy," she said.
Pyramids and Heroes
Alexander was looking for an artist when Alicia Crudup, the executive director of Keep Jackson Beautiful, showed her Childers' portfolio. She describes seeing an image of two hands reaching toward each other, which matched the nonprofit's logo.
"When (Crudup) pulled (it) up on her computer, it had two hands. It was affirmation that that was God telling me that this is who you need. I had goosebumps all over," Alexander said.
Childers and Alexander met up to sign the contract on April 19, and he had four weeks from then to finish the mural. The mural is 72 feet in length, the school's colors—yellow and black—bordering the left and right sides of the mural.
At its center sit six historical black figures: Marcus Garvey, Frederick Douglass, Booker T. Washington, Barack Obama, Medgar Evers and Mary McLeod Bethune. They are shrouded in white clouds with Egyptian pyramids, an obelisk and a Sphinx sitting under them.
Childers said the historical figures were Alexander's idea—people she credits with encouraging the African American community to value their self-worth and economic viability.
"When we look at the African American community, particularly the low-income community, we can't say we can't transform them," Alexander said. "Look at the pyramids. We can transform our communities."
Childers said many students who came up to the mural were familiar with the figures he painted.
"It was great affirmation knowing they knew those figures," he said. They could go to that panel of figures and talk about the contributions they gave to humanity."
'A Place of Promise'
All the other elements in the mural—from the sunflowers to the hands reaching toward each other—were Childers' design. After he primed the wood and sketched the design onto the wood, his friend Azha Sanders helped him paint the school colors, the cat on the pathway and the sunflowers on the left side. He said the design honors the children on the playground.
"The inspiration was supposed to be the left side being the past, the right side the present. In the middle they meet," he said. "It (the left side) represents struggle and trying to make things change. The right side being future and a place of promise."
Alexander said she wants to achieve hope and promise by putting the mural in the community.
"Blight removal is a mess, and the mindsets of the people is even harder," she said. "I try to be understanding because sometimes when you live with despair for so long, it is difficult to see hope."
A 2017 report from Urban Institute said that blight can create a climate of social and psychological disorder
"These factors have been shown to have deleterious effects on area residents, including mental distress; higher rates of chronic illness; sexually transmitted diseases; stunted brain and physical development in children; and mass retreat of area residents into unhealthy heating and exercise habits," the researchers found.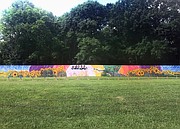 Lucinda Turner Robinson, 64, has lived in the Castle Hill area for 26 years. She said the neighborhood was beautiful and thriving when she moved into it. But in 2005, she said everything went downhill for the community when a tornado hit, and some homeowners and renters left and never returned.
The community is now plagued with empty houses, dilapidated apartments that board the elementary school, ditches and a lot of trees, which block her view of the elementary school.
"It was trees (and) bushes. I couldn't see anything," she said. It's too dangerous for these kids to be walking up Shady Lane. There are no sidewalks. They don't have anywhere to walk."
Robinson said the blight has had a significant effect on the self-esteem of the children who attend Wilkins and live in the neighborhood.
"It doesn't give them confidence on what the future holds for them," she said. "It's a devastating thing to pass by places and walk by places that you're afraid of."
She said Leadership Next Generation Plus helped clear the trees blocking the school. Now that she can see the children walking home from school, she feels safer.
With the addition of the mural, she hopes it will get people's attention.
"It's beautiful," Robinson said. "I hope it will remind them that we have children growing up in the community, and we want them to have the best outlook on life, and it starts at the ages they are now."
The Chatter of Children
Martha Alexander said she sees the art as transformative and therapeutic. She said she has already noticed the mural's impact on the children and the community as residents have been keeping their lawns cleaner and picking up trash.
"The sounds I hear on the playground now indicate that they enjoy being out there. I never heard the chatter of children the way I hear it now," she said.
Alexander hopes that next year they can get the students to participate in the transformation process and add their artistic view to the wall themselves.
"For the students, I hope they realize that despite the fact that they live in a blighted area or come from blighted areas, they can see a thing of beauty in their midst and learn to appreciate that," she said.
Childers loved that his artwork could have a positive effect on the community and children, especially since he gives credit to art for helping him through some tough moments in his life.
"From my standpoint, these are just regular people living in these neighborhoods. These are just people who want to do their best and want to live in the best opportunities like everyone," he said.
"To see people like this that come to their school, it gives them a lot of hope," Robinson said of Childers. "That we do have a chance in life."
Email city reporting intern Aliyah Veal at aliyah@jacksonfreepress.com.
CORRECTION: In the original version of this story, one of our captions said Eli Childers' mural is at Watkins Elementary School. It's actually at Wilkins. The Jackson Free Press apologizes for this error.
More stories by this author
Like independent media outlets around the world, the Jackson Free Press works hard to produce important content on a limited budget. We'd love your help! Become a JFP VIP member today and/or donate to our journalism fund. Thanks for considering a JFP VIP membership or one-time support.