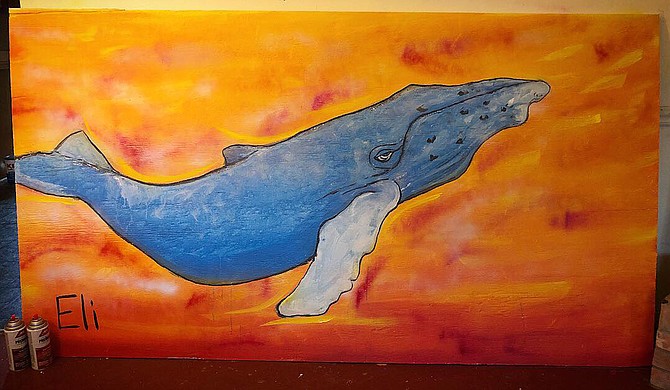 The Ecoshed in Fondren does not have a roof right now. But that will be part of the charm at "Expansion: Art, Fashion, Music Under an Open Sky," which is the latest event to take place the venue and will showcase the arts scene quite literally under an open, expansive sky.
"I have this vision in my head of (what) it's going to look like, and I know that once people get in there, they're going to be like, 'We're not in Mississippi anymore,'" event co-organizer Erin Griffin says. "It's going to look like something out of California."
Local artist Eli Childers and Lucid Model Agency owners Sharon Coker and Griffin decided to plan an event that would showcase the worlds of art and fashion.
"I think art and fashion go hand-in-hand, because it's about accepting the self, and accepting the world and the people in it at the same time," Childers says. "It's about expressing that beauty that's within in an outwards sense."
At the event, local artists such as Azha Sanders, Will Brooks, Kira Cummings and Adrienne Domnick will set up pop-up shops. The evening will also feature music from acts such as the Jason Daniels Band, Metaphive, Empty Atlas, Via Novus and DJ Andy Haynes, as well as a fashion show on a 50-foot runway.
Coker says Lucid Model Agency, which she and Griffin founded earlier this year, is devoted to representing women and men who are different from the norm and accept themselves in their own skin regardless.
"We decided to do this agency because we just kind of felt like letting these kids, who don't necessarily get a chance otherwise, have a chance," Coker says. "We want to build them and send them off to markets where they can be in the fashion industry and be confident and be themselves instead of changing."
Griffin says: "We want people to be comfortable in their own skin, and we're challenging the status quo of the modeling industry. We want interesting people. We have real-looking people."
Childers sees "Expansion" as a way to add more to the arts scene in Jackson.
"There's ... a void in Jackson, not just in the fashion and photography world but in the art scene," he says. "In a big way, there are a lot of very closed doors when it comes to the art scene here in Jackson. People are hungry to express themselves."
Coker, who is a photographer herself, says the organizers also aim to showcase younger talent in Jackson.
"There are a lot of artists here locally who may be younger and may not know what to do in order to get themselves in a situation like this, so we're hoping to trailblaze a little bit," she says. "The talent in Mississippi is insane. There are so many talented people. They aren't being showcased. And we figure if nobody else is going to do it, why not us?"
Models in the runway show will wear clothes from Vintage Rec, a new store in Flowood.
"We approached them because they're not your stereotypical Mississippi fashion," Coker says. "We wanted something that would stand out in their mind. We want to support local stores as well as artists."
Coker, Griffin and Childers say they would like to make "Expansion" an annual event, and hope that with this event will help creatives continue to flourish in the area and not yearn to move away to find success.
"Mississippi in general is a very valuable and treasure-filled place, but without the facilitation of these kinds of situations, it's just stagnant," Childers says.
"We don't want people to feel like they have to go to New York or L.A. There's so much talent here," Coker says.
"Expansion: Art, Fashion, Music Under an Open Sky" is Saturday, Nov. 10, from 6 p.m. to 10 p.m. at The Ecoshed (133 Commerce Park Drive). Tickets are $20 per person. For more information, find the event on Facebook.