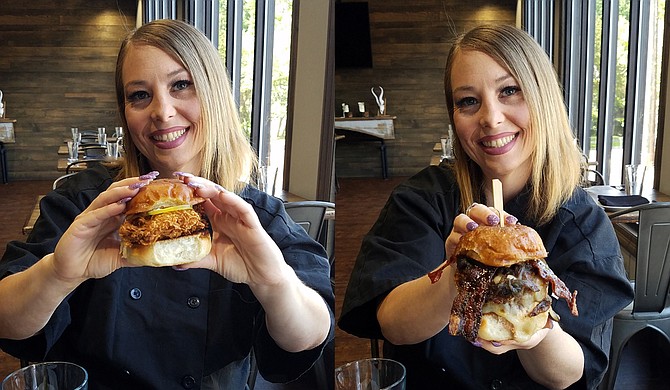 Alivia Ashburn-Townsend started her restaurant career off as a server at a restaurant in the Jackson metro area and says that when the kitchen would get backed up, she would jump in and help. With the help of ex-husband Brian Myrick of Johnny T's Bistro & Blues and other local chefs, she has moved up in the local food scene.
These days, she is a private chef who owns local business Jackson Culinary Concierge, is a single mother of four, and is an active member of both the Tri-County Foodies #EATMS and Jackson Foodies groups on Facebook. With her cooking, she aims to encompass both her travels and tutelage, as well as her skills with southern cooking.
Recently, she sat down with the Jackson Free Press to talk about her experiences in the male-dominated industry, as well as the future of food in Mississippi.
Tell me about your journey through the restaurant industry.
I've actually been in the restaurant industry for a long time. I started out as a server, and that's where I really started discovering what people like. You know, because a server has direct contact with the patrons, so you get to listening to things and things that they repeatedly order. You start really learning what people like—their expectations, not only (for) food but service.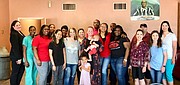 ... My ex, Brian, was the chef at Char for 13 years, and then he wanted, of course, to open his own spot, so when the opportunity came for Norma Ruth's, we jumped on that. That's when I really started learning different techniques because he's classically French-trained. He taught me pretty much everything he knows. And then as far as soul-food, ... he learned that from me. So we really fed off of each other. And my experience of being in front of the house and his in the back of the house, we were really able to be a good team and get a lot of things accomplished.
What are your favorite foods to cook and to eat?
Cajun food, soul food—those things are comforting for me. They are made with love. They take so much time and dedication and years of developing and mastering the perfect collard greens, the perfect fried chicken. And that was always my go-to at home to cook, so that's what I'm most familiar with. I feel like it speaks volumes of myself when I feed people that.
... But outside of that, travelling and learning authentic international cuisines was very important to me. And (I like) my children being able to eat things that aren't readily available here that we hope one day to have here. I make (those dishes) at home, so that they are actually more cultured worldly than what we have available here.
Tell me more about the Tri-County Foodies Group. Where did it get its origins?
I originally was in (Jackson Foodies) when I was at Norma Ruth's, so there was a lot of promoting I did in that group and built relationships. But it was focused solely in Jackson, which was great, and I understand the concept, but Remy Knott and Kim (Kelly-Knott), him and his wife started Tri-County because they wanted people to have more options who aren't just living or working in Jackson.
So me and Rachel (Phuong Le) joined the admin team in Tri-County and really took it to a whole other level as far as communicating and building relationships with these foodies. ... But what I wasn't anticipating would come out of this group was so many good people with good intentions, and (who) want to help the community and want to support locally. ... And then you're looking around, and you see people from all different ethnicities, age groups, backgrounds, ... and we're all coming together over one common thing: the love of food. I didn't foresee it growing to be something this big, and it's only going to get bigger.
Was it a struggle for you to get to where you wanted to be in the food industry?
It was a struggle trying to figure out where I wanted to be because as a chef, you envision yourself being on the line—creating menus, creating recipes. You don't foresee it leading it into the direction of not just food, but people. So I couldn't foresee it happening like this. When I left Norma Ruth's, I put my hands up and pretty much was like, "I'm going to let God steer this, from this point on. I'm going to work on myself physically, mentally, where I need to be. And I'm going to let God direct me."
And everywhere I turned, (he) was directing me to help somebody. ... Those are very humbling experiences. ... Cooking gave me a direction in life that I couldn't foresee. I used to be the cocky chef. It's funny how God will step you back and put people in your life just at the right time to change for the better.
What's it like balancing life with working in the food industry as a woman?
This industry's tough. It's a male-dominated industry, which already makes it hard for a female chef. So you have to set yourself apart. ... Most good chefs are really cocky. I didn't want that. I feel like if God blesses you with a craft that it's your obligation, and it's your duty to share that.
Who are your favorite chefs and inspirations?
Brian Myrick from Johnny T's and Norma Ruth's definitely steered me into the course of the chef life that I needed to be, as far as techniques and recipe development and just playing around with different flavors, different herbs, things that I wasn't familiar with. ... I would say as far as the most genuine chef, (that) would be Mike Mosley from 1693 Red Zone (Grill). Absolutely amazing guy—goes above and beyond for the guests, and he's talented. (It's) my favorite Cajun restaurant in the city.
Then, behind that would be Louis LaRose from Lou's (Full-Serv). He would be my inspiration to what I one day would eventually like to accomplish and be, at that level.
What do you see for the Jackson food scene's future?
I'm hoping that Jackson grows and Mississippi grows more, too, ... having different cuisines than are readily available for us right now. ... I think the food hall that they are putting in (The District at Eastover) is going to be a great start to that. ... I think that's a great thing for Jackson. Bigger cities—Birmingham and New Orleans—they've had much success with the food hall. I hope that it goes well.