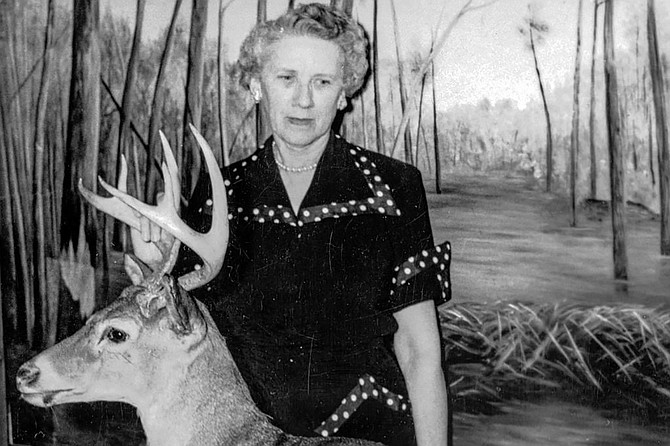 Mississippians may often hear Fannye Cook's name in discussions of the state's history. Those who are not involved in the natural-science community may not know as much about her, however, other than her exhibit at the Mississippi Museum of Natural Science. The conservationist and scientist was instrumental in establishing the state's gaming and fishing laws, and leading the charge to restore and protect Mississippi's natural world.
Marion Barnwell and former MMNS Director Libby Hartfield set out to tell people about Cook's life and legacy through the book, "Fannye Cook: Mississippi's Pioneering Conservationist" (University of Mississippi Press, 2017, $20). The two women helped to finish the book after its author, Delta State University English professor Dorothy Shawhan, died during the second editing phase.
"Dorothy Shawhan was very much interested in noticing women who had been under-celebrated," Barnwell says.
The author wrote books with women as central figures, including biographies of artist Carolyn Norris and lawyer Lucy Somerville Howorth, and novels such as "Lizzie" and "Going to Graceland."
"She'd have been very pleased to know that the book ('Fannye Cook: Mississippi's Pioneering Conservationist') has already had a good reception," Barnwell says.
Cook was born July 19, 1889, in Crystal Springs, Miss. Her love for wildlife began as a child when she started studying and collecting wild plants, birds, mammals and amphibians. She graduated in 1911 from the Industrial Institute and College, now the Mississippi University for Women, with a bachelor's degree in English and history.
She worked as a principal and teacher in Beauregard, West Point and Louisville, Miss., among other U.S. cities, and later, in 1915, she taught at Cristobal High School in Panama.
It was literature that first made her want to embark on a conservation campaign in the state. An article from the Mississippi Historical Society's Mississippi History Now website says that later on in her life, Cook wrote, "In 1923 and 1924, the writer, while engaged in a survey of the literature relating to Mississippi wildlife, was impressed with this insufficiency of information and with the inconvenience of assembling such as had been published."
After several years working for the Internal Revenue Service in Washington, D.C., Cook resigned in September 1924, moving back to Mississippi later that year and starting her wildlife collections. She collected skins from birds such as the green-winged teal, the eastern bluebird, ring-necked duck and Savannah sparrow and brought them back to the Smithsonian National Museum of Natural History. Her collections of birds, mammals, plants, reptiles, mollusks and fossils are now part of the national collection.
The Mississippi History Now article says that, in the 1920s, Mississippi had no department responsible for the protection of wildlife, and many officials were not concerned with protecting certain game species.
"We had no game protection (and) no game laws here," Hartfield says. "There were a lot of bad things happening as far as wildlife being wiped out. You could shoot as many deer as you wanted, and so on."
It got so bad that market hunters, or those who killed edible or fur-bearing wildlife to sell and ship for consumption in other states, made it difficult for people such as farmers to hunt deer, she says.
In 1926, Cook began traveling Mississippi to campaign for a state conservation program. She received office space after professors at the Agricultural and Mechanical College of the State of Mississippi (now Mississippi State University) saw her exhibition on the usefulness of birds in combating harmful insects at the 1926 Mississippi State Fair.
A year later, she founded the Mississippi Association for the Conservation of Wildlife, which called for the creation of wildlife refuges, public hunting grounds and a state department of conservation, among other goals.
Cook solicited funding and lobbied the Mississippi Legislature to create a state gaming and fishing commission. In 1932, the legislature passed a law that allowed the creation of the agency to write game laws, name game wardens and more.
In her years as a conservationist and scientist in the state, Cook helped save Horn Island on the coast and made it part of the National Park Service, and established the Mississippi Academy of Science, among other achievements.
"She was a very well-known scientist in her day, but I think partly because she was a woman, she got very quickly forgotten," Hartfield says. "... She was a woman in Mississippi at a time (when) women still didn't have the right to vote. She did pretty much incredible things."
Hartfield and Barnwell will sign copies of "Fannye Cook: Mississippi's Pioneering Conservationist" on Thursday, Jan. 18, at the Eudora Welty House and Garden (1119 Pinehurst St.)..The event is from 5 p.m. to 8 p.m., and is free and open to the public, though seating is limited.
The book signing will be at 5 p.m. At 5:30 p.m., Cathy Shropshire will perform her one-woman show about Cook's life, and Welty biographer Suzanne Marrs will read letters that Welty wrote, including anecdotes about Cook, after that. For more information, visit the Mississippi Department of Archives and History website.
More like this story
More stories by this author
Like independent media outlets around the world, the Jackson Free Press works hard to produce important content on a limited budget. We'd love your help! Become a JFP VIP member today and/or donate to our journalism fund. Thanks for considering a JFP VIP membership or one-time support.