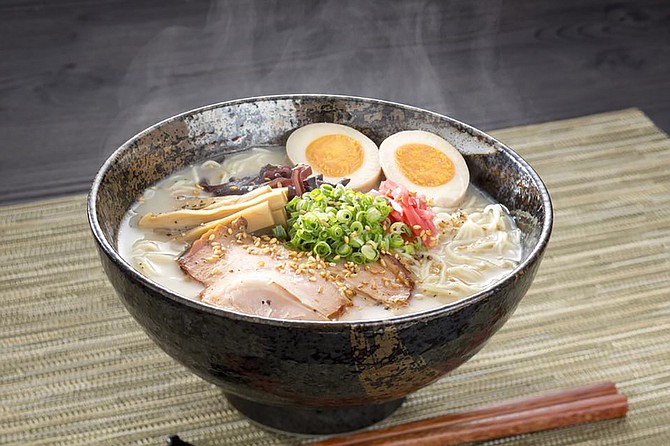 Wasabi Sushi & Bar (100 E. Capitol St.), which has been in operation in Jackson Place for seven years, will soon expand with the opening of a new location called Wasabi Township at The Township at Colony Park (1107 Highland Colony Pkwy., Suite 111) on Monday, Jan. 15.
Wasabi Township will feature a full sushi menu, a hibachi grill and a full bar, as well as new additions such as Japanese breakfast crepes, which are rolled pancakes stuffed with steak or grilled chicken, potatoes, fresh vegetables and a spicy cheese sauce. On Tuesdays, the new restaurant will also offer traditional Japanese ramen made with simmered pork-bone broth and topped with grilled seafood, spicy chicken, pork belly and more.
"I am looking to create more traditional Japanese food at this new location," Wasabi owner and Executive Chef Lina Lynn told the Jackson Free Press. "I plan to have a different menu all the time and to use fresh vegetables that I grow in my own garden at home."
Before the soft opening on Jan. 15, the first 500 people who share posts on the opening from the restaurant's Facebook page and get 50 likes will receive a custom Wasabi baseball cap available in four colors. Lynn said she is also planning a future grand opening featuring an appearance by Iron Chef Cat Cora.
Wasabi Township will be open Sunday through Thursday from 7 a.m. to 9:30 p.m., and Friday and Saturday from 7 a.m. to 10 p.m. For more information, call 601-898-8849 or visit the restaurant's Facebook page.
VIBE Sports Grill Comes to Jackson
VIBE Sports Grill (6390 Ridgewood Road), a new restaurant and venue in Jackson, opened its doors in November 2017. The venue has live music and guest deejays every weekend, as well as karaoke, line dancing, salsa and Chicago step classes.
The menu at VIBE features quesadillas, burgers, chicken and shrimp, as well as wings in a variety of styles such as lemon pepper, Cajun, supreme pepper, golden barbecue, sweet heat and more. VIBE also has three different bars throughout the building, and has a "happy hour" Monday through Friday from 5 p.m. to 8 p.m., with $1 margaritas and domestic draft beers, and $5 daiquiris. Guests who reserve an eight-person booth also receive a free fifth of Hennessy cognac or 1800 tequila, a free appetizer and access to front-door parking.
"I definitely want to persuade anyone who comes to rent a booth if they can because it becomes 'standing room only' here quickly," manager O'Neal Walker told the Jackson Free Press. "We've got great drinks, food and atmosphere here, and what I think of as an out-of-state venue vibe."
VIBE is open Sunday through Thursday from 4 p.m. to midnight, and Fridays and Saturdays from 4 p.m. to 2 a.m. There is a $10 cover charge on Fridays and Saturdays, but women can enter for free. For more information, call 769-233-8713 or find Vibejxn on Facebook or Instagram.
Mazda of Ridgeland Moves to Jackson
Mazda of Ridgeland (1860 E. County Line Road, Ridgeland) moved its operations to the former location of Mercedes Benz of Jackson (5397 Interstate 55 N. Frontage Road) on Monday, Jan. 8, after purchasing the building on Dec. 15, 2017. BC Autoplex of Ridgeland, which Mazda of Ridgeland owner Joe Marshall also owns, is operating at the former Mazda site for the time being.
Cassidy Carr, general sales manager at Mazda of Jackson, told the Jackson Free Press that the new location is roughly three times larger than the former Ridgeland lot. Mazda of Jackson is also planning a grand-opening celebration in a few weeks, though details are still to be determined.
Mazda of Jackson is open Monday through Saturday from 8 a.m. to 8 p.m. For more information, call 601-991-2222 or visit mazdaofjackson.com.
More like this story