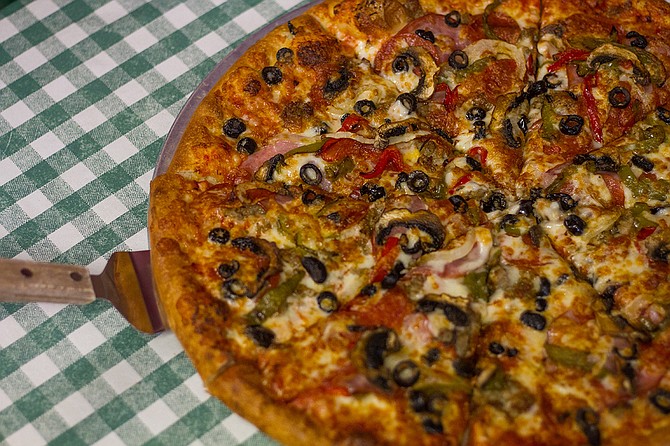 At Angelo's, the tables are stocked with Italian and pizzeria staples such as shakers of parmesan cheese and crushed red pepper, and something more unusual for an Italian restaurant: squeeze bottles full of barbecue sauce.
"We hear all the time, 'Man, this is the first barbecue and Italian restaurant I've ever walked into.' It's probably the only one," owner Chris Angelo says.
Angelo started the restaurant with his cousin, Jay Angelo, in 2014. Jay left the business after the first year, making Chris Angelo the sole owner. He brought his son Ryan in to help run the restaurant.
The location was once the home of a barbecue restaurant, Pig Shack.
"They had just bought a $10,000 smoker, and we didn't want it going to waste," Angelo says, so they decided to incorporate barbecue dishes into the menu.
"We have pulled-pork pizza; we've got country-fried steak on our blue-plate menu; we've got spaghetti and lasagna, (and) brisket burgers," Angelo says.
Mixing barbecue and Italian food has been a test for the restaurant.
"The menu has been a trial and error," Ryan says. "We have a lot of family recipes on our menu. Some of it is specials that customers like, and we'll add those and take something off that's not selling."
The Angelos say they owe their success to the variety of food and the quality which they strive to maintain.
"Somebody can have barbecue, somebody can have pizza, and somebody can have lasagna," Ryan says.
Angelo has worked in the restaurant business for most of his life, and for most of that time, he worked with his family.
"I worked at the Cherokee Drive-In for 10 years," Angelo, whose family owned the business, says. "Working around family is a big plus. It's tough, but it's a good thing." He left the Cherokee in 1995.
Ryan serves as a manager in the restaurant. "This is what I've grown up around. I love getting to come in and see my dad everyday," he says.
Throughout the years, the Angelos strived to create a family-oriented atmosphere in their restaurant.
"There's never a stranger in this place," says cook Craig Hamilton. "Everyone knows everyone. There's hardly a stranger who walks through the door."
Angelo says word of mouth is great for his restaurant. "If you asked anyone in this area about our restaurant, they'd say, 'Oh yeah, we've been there.' It's become the neighborhood place," he says.
"We get all kinds of people, from off the interstate. We get all the blue-collar workers from the factories."
Angelo's (128 Weisenberger Road, Gluckstadt, 601-898-1070) is open Monday through Friday from 11 a.m. to 2 p.m., and 4:30 p.m. to 9 p.m.., and Saturday from 4 p.m. to 9 p.m. For more information, find the business on Facebook.