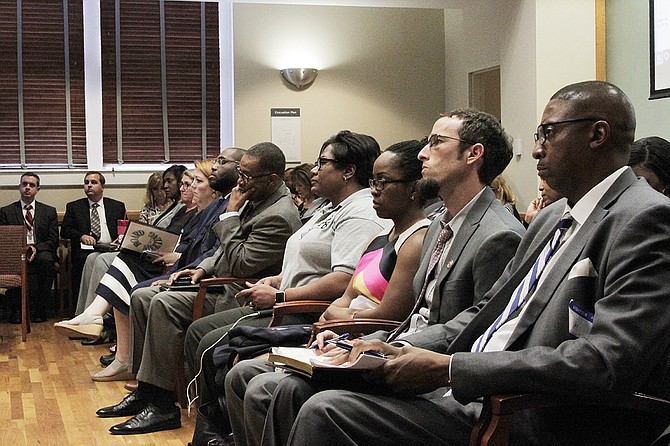 JACKSON — Jackson Public Schools started the week of Sept. 11 facing a possible takeover and ended with its fate in Gov. Phil Bryant's hands. The governor, who cut funding to Mississippi public schools earlier this year, must now decide whether or not the district is indeed in an "extreme emergency." If it is, per Bryant, the State will take control of the second-largest district in the state.
The governor told reporters this morning that he was not going to rush judgment on the takeover decision, noting it is something he does not enjoy doing.
"We're not going to rush the judgment on this. This is a very important decision that will be made. I certainly respect the (state) board's decision to send me that request for emergency, but we are going to make sure that we know exactly what the condition of the city of Jackson public school system is now—that that wasn't just a snapshot that occurred," Bryant told reporters at the Capitol this morning.
Sitting in the old Central High School building that closed in downtown Jackson just a few years after forced integration, both the Commission on School Accreditation and the Mississippi Board of Education voted last week to declare that an "extreme emergency" jeopardizes the safety, security and educational interest of JPS students enrolled in the majority-black district. If the governor signs the Board's resolution, he will abolish the school district, dissolve the current school board and install a new interim superintendent—Dr. Margie Pulley—whom the board approved in its meeting Sept. 14 with the current JPS interim superintendent in the room.
Mayor Chokwe Antar Lumumba said last week that he had met with State Superintendent Carey Wright about JPS and explained the efforts the City is willing to take to move the school system forward. Lumumba told #OurJPS supporters last week that the district being under a full investigative audit while working on a corrective action plan was "unprecedented."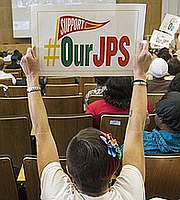 The reasons the JPS takeover is a bad idea.
The mayor alleged "nefarious intent" on behalf of MDE and the attempt to take over the school district. Wright never addressed reporters last week, even after the dust settled, instead sending her chief accountability officer and board chairwoman to speak to reporters after the vote.
Chairwoman Rosemary Aultman said the state board had the interests of the children in mind when they declared an emergency. Aultman said the board was urged from above to hire Pulley on that day.
"Our board acts on recommendations from the state superintendent and the leadership team, so that was the recommendation," Aultman told reporters last Wednesday. "And this was treated just like any other recommendation for an employee of the department or a contract employee." The board had not publicly announced Pulley as a possible candidate in open session or mentioned that it was considering a new superintendent, however, until they came out of executive session and announced their decision in front of JPS' interim superintendent, Freddrick Murray.
How We Got Here
JPS was on probation in recent years—for the first part of former superintendent Cedrick Gray's tenure. When Gray walked on the job, JPS was on probation for not providing adequate special education for students with behavioral and emotional disorders. By 2014, the district had its accreditation back, but its academic performance rating did not budge.
During Gray's tenure, the district maintained a "D" rating through 2015. While not moving quickly, things were hopeful. When MDE conducted a limited audit of JPS in April 2016, however, that hope started to fade. The audit revealed that JPS was in violation of 22 of the 32 accreditation policies, and the Commission on School Accreditation voted the district back to probation status in August.
At that time, the concerns of MDE officials focused on safety—from late buses to absent resource officers.
In the meeting when JPS went back on probation, the commission also approved a full investigative audit of the district, which MDE did not finish and release until Aug. 31, 2017, a year later.
In the meantime, the district worked to fix what the limited audit had found with corrective action plans. The district's first submitted plans were rejected on Nov. 10, less than two weeks after Gray offered his resignation in a swift exit on Nov. 1. In the meantime, the JPS board named Freddrick Murray interim superintendent immediately, while it decided what to do. MDE finally approved JPS' amended corrective action plans in mid-December.
The JPS board debated conducting a superintendent search—either state or nationwide—but could not come to an agreement. With the Christmas vacation over, and school started up again, the JPS Board voted to postpone any search or request for proposals from search groups. They left Murray at the helm in February, as the district continued to work on its correction active plan, or CAP.
JPS administrators contracted with the Bailey Education Group in April to ensure implementation of the district's corrective action plans. The $107,500 contract was supposed to ensure implementation of the district's CAP. The CAP administrator from Bailey was required to outline the process and timeline for the plan as well as provide weekly status reports to the interim superintendent, the contract shows.
In the Aug. 24 JPS School Board meeting, Dr. William Merritt told board members that the district was 90 percent complete on the CAP. A week later, MDE dropped a 680-page audit report, saying the district was out of compliance with 24 of the 32 process standards and that administrators were to report to the Commission on School Accreditation's meeting scheduled to be held in two weeks on Sept. 14.
JPS administrators brought binders full of rebuttals to the audit, and during their presentation time to both the commission and the board last week, they refuted parts of MDE's report and presentation where their data differed.
Murray maintained that while the district had work to do and faced challenges, it was not in an "emergency" situation. "What we've done in seven months is probably more than what was done in seven years," he told the commission last week.
Ultimately, MDE and JPS disagreed on graduation numbers and which facilities still needed emergency plans, but the discrepancies in data did not seem to matter to the state bodies.
'Loss of Local Control'
Nothing changes in the district for now, and it is up to Gov. Bryant to sign the State Board of Education's resolution. If he does, Dr. Pulley takes over, and the Mississippi Board of Education will govern the district—dissolving the JPS Board of Trustees and taking away the City's control.
The mayor now appoints school-board members, and city council members vote to approve each member. Each school-board member represents a different ward of the city. The current board is still three members shy after losing four members earlier this year. Former JPS board President Beneta Burt's term ended in June, and three other members vacated their positions before their terms expired to pursue other opportunities. Mayor Lumumba had not filled those three positions yet, which both state bodies discussed last week.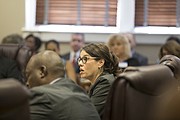 "How many board members are there at Jackson Public Schools?" Commission on School Accreditation member Eddie Prather asked on Sept. 13.
Murray told him there were enough members for a quorum and that Mayor Lumumba was working to fill the board. When he tried to defer to the mayor to fully answer the question, MDE's lawyer objected, citing the commission policy that only school-district officials, board members and their counsel can speak during hearings.
JPS attorney JoAnne Shepherd made sure to tell the Commission that the other three district board member vacancies were due to resignations.
Republicans pushed and passed a "Districts of Transformation" law in the statehouse this past session, which sets up the procedure JPS will now follow if taken over. It will have to maintain a "C" grade for five consecutive years before returning to local control, unless the state board determines the district is eligible sooner. MDE attorney Erin Meyer told the state board Sept. 14.
While JPS would lose local control if Bryant signs the state board's resolution, technically, the district is still on probation and has not lost its accreditation—yet. The Commission on School Accreditation can vote on the accreditation at its October meeting, MDE Chief Accountability Officer Paula Vanderford said last week.
If the district's accreditation is withdrawn, Vanderford said extracurricular activities would stay in place for at least a year. "From the day of the withdrawal of accreditation, (the policy) allows the district a period of one year to resolve the deficiencies before it has any impact on extracurricular activities. And after one year, it could reduce the extracurricular activities to 50 percent, but that's not until the one-year period has lapsed," the Rankin County resident said.
After a year, the district would be able to participate in no more than half of the regular season of any interscholastic activity including all sports teams, speech and debate, choral music and band. Cheerleading, drill and dance squads, band and choral music, and speech and debate teams would be able to participate in district or state contests, but not be eligible to receive ratings. After a year, the Office of Accreditation would pre-approve all schedules and participation in extracurricular activities, and no teams would be eligible for tournaments, post-season participation—unless MDE decides otherwise.
International Baccalaureate is not considered an extracurricular activity, MDE Communications Director Patrice Guilfoyle said, and it would be treated as an instructional program.
If JPS loses its accreditation, parents could also apply for transfers to different accredited school districts, which those district school boards must approve.
Jackson attorney Dorsey Carson, whose daughter attends McWillie Elementary in JPS, did not wait. Carson and 29 other parents sued Wright, Aultman and Heather Westerfield, the chairwoman of the Commission on School Accreditation on Monday, asking the federal court for an emergency petition for a temporary and permanent injunction on the takeover.
Read more at jfp.ms/jpstakeover.
More like this story
More stories by this author
Like independent media outlets around the world, the Jackson Free Press works hard to produce important content on a limited budget. We'd love your help! Become a JFP VIP member today and/or donate to our journalism fund. Thanks for considering a JFP VIP membership or one-time support.