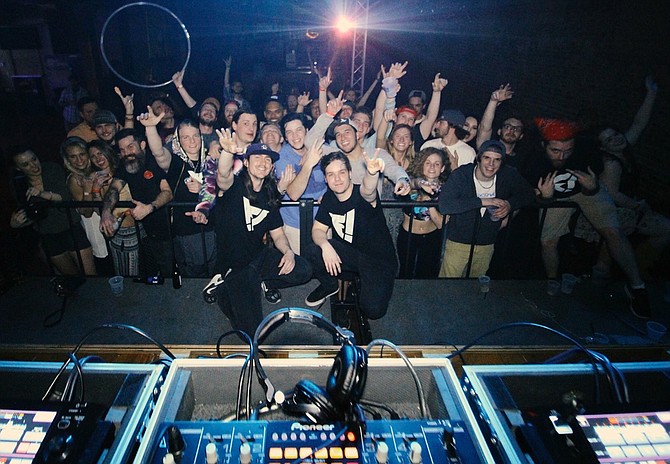 An absentee headliner wasn't exactly how Jackson natives Mitch Draper and Jonathan Nixon planned to launch their new monthly event series, the FLVSH BVNG! Art & Music Showcase, in January.
Houston, Texas-based deejay LUZCID was scheduled to perform but ended up missing out on the first show due to the inclement weather. However, the absence did not stop the show one bit, Draper says.
"The people rarely even noticed or cared that the headliner would not be joining us," he says. "You could tell they arrived to specifically jam out, and that's exactly what they did."
Draper, 21, whom fans know as deejay TVBOO, has been involved with the Jackson entertainment scene since he was about 13 years old, first as a drummer. As deejay Malignate, Nixon, 25, has performed all over the country, even taking his talents to South by Southwest Music Festival in Texas, where he lived for a short time before returning to Mississippi in 2016. Nixon also launched the initial FLVSH BVNG! series while in Texas, but the events were smaller and more sporadic.
After the closing of downtown venue Big Sleepy's, where Nixon and Draper had begun hosting EDM shows, the duo wanted to do something grander for their next endeavor. Lights, live artwork, creative stage design, costumes, and EDM and dubstep music create the aura of FLVSH BVNG! The response to the first event exceeded expectations. The duo decided to scale back for the second show in February, but the crowd was even bigger than the previous one.
Draper and Nixon say that they intend to host a FLVSH BVNG! event every month, featuring local and national music and visual artists.
This month's showcase, which takes place Friday, March 24, at Martin's Restaurant & Bar, will feature music from Phulti, DJ Tricky Jr., and headliner Levitation Jones, who is an experimental dubstep deejay based in Rhode Island. Nixon and Draper will also be revealing their side project, an experimental collaboration called GVNG BVNG. This month's featured visual artists are Jonathan Faulkner and T.J. Legler.
Nixon says that he and Draper have worked to create an environment that allows for synergy between the crowd and entertainers, and after only two events, people seem to be appreciating how unique it is.
"After the shows, it takes 30 to 40 minutes to walk through the crowd because of all the love being spread," Nixon says. "We have not had one issue or fight. Phenomenal crowd responses, random heart-to-hearts and heartfelt thank-yous, including the infamous family photo at the end of the night. This is what we do it for—the people, not the money."
Draper says one goal for FLVSH BVNG! is to build a platform to start festivals, and the end goal for him and Nixon would be taking the show on the road. However, they want people to gravitate toward Mississippi first.
FLVSH BVNG! Art & Music Showcase, Vol. 3, is at 9 p.m., Friday, March 24, at Martin's Restaurant & Bar (214 S. State St.). Admission is $10 in advance or $15 at the door. Visit flvshbvng.com.
More like this story