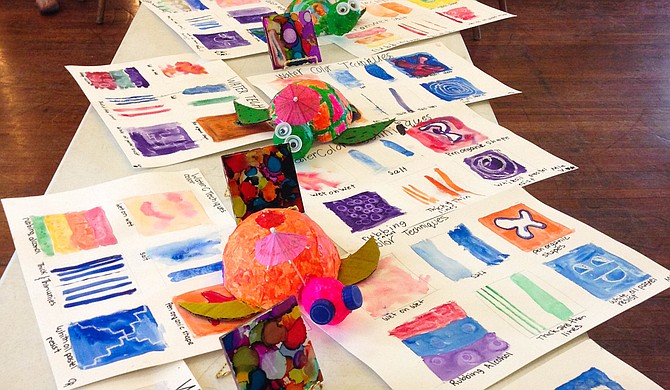 JACKSON — With canvases, brushes, papier mache, bottle caps—and sometimes balloons—the instructor for the city's annual Allison Wells Summer Arts Camp, Cindy Presley, focuses on creating pieces that inspire participants to create art from anything.
"We never know what Cindy is going to ask us to save—one year it was coke bottle caps—it's an ongoing joke in the office," Canton Tourism Office Executive Director Jan Dear says. "It's really amazing to watch (Presley). It's not just one type of art. You can make art from anything and everything."
For 17 years, the Canton Tourism Office has sponsored the camp, which brings children from across the state to Canton's historic downtown to discover their artistic side. From June 5-9, children ages 8 to 12 can participate in the weeklong summer arts camp with instruction from Presley at the Canton Welcome Center. The camp lasts three hours each day, from 9 a.m. to noon, and provides a variety of activities.
Dear says the camp combines the basics of drawing and painting to introduce the kids to the colors of art.
"We used to have the drawing and painting camps separately, but the kids were more geared toward the colors in painting," she says. "With the camps combined, they get the basics of both. This camp is an opportunity for kids to have a hands-on experience with art."
The camp costs $80 and includes the price of supplies and snacks. Dear says they keep price is low to make it accessible to everyone, but space is limited so that the eight to 10 children in the group can get individualized instruction. The camp gives the kids the creativity they crave, she says.
"The thing that amazes me most is that the kids are hungry for art," she says. "They are so overloaded with technology at school and home. We don't allow phones at the camp, and that gives them a break from it. It gives them a chance to create something with their hands."
Dear says that they also hope these hands-on experiences will inspire lasting changes for participants, from developing a love of art to developing in their interactions with others. She's seen shy kids come to the camp and begin to reveal their personalities as they create art, she says.
"They become (proud) of what they've created," she says. "They come here fighting with their moms and dads saying, 'I can't draw,' and leave having created some beautiful pieces. I'm amazed at what they create.
"... They don't just throw them away when they get home or store them in the attic. They treasure these pieces. I had a parent call me one time and say he still has the bottle-cap American flag his daughter made at the camp hanging in his office."
The Canton Welcome Center will accept applications until tomorrow, June 2, for the summer arts camp. The center also offers two filmmakers' camps: the Allison Wells Young Filmmaker's Camp (Junior) for ages 8 to 12 from June 13-16 and Allison Wells Young Filmmaker's Camp (Young) for ages 13 to 18 from June 19-23. For more information, call 601-859-1307.