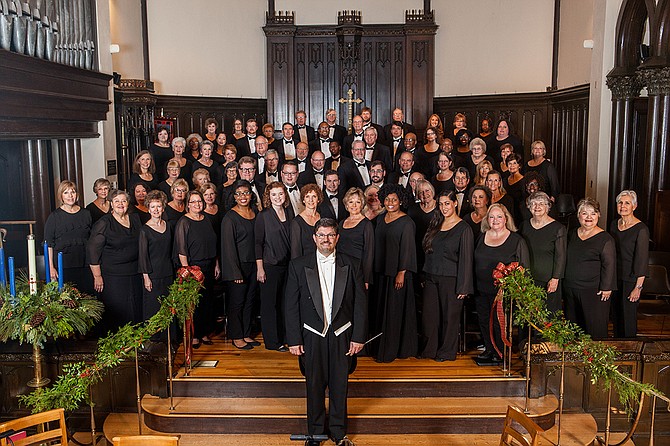 The Mississippi Chorus will perform the first movement of 18th-century composer George Frideric Handel's seminal oratorio, "Messiah," again this year, following two sold-out performances in 2016. However, the upcoming holiday concert will mark more than one significant milestone for the Mississippi Chorus and for the music itself.
Artistic Director Mark Nabholz, who is in his second year with the chorus, says that "Messiah" is unusual piece in that when most music premieres, it is either a big hit that later declines in popularity or a less-popular piece that gains appreciation over the years.
"'Messiah' is different in that it was a huge hit when it first premiered in Ireland—in fact, this is the 275th anniversary of its premier—and it has never gone out of popularity," he says. "It was popular at the very beginning, and it's been popular ever since. It's been performed all around the world every year for 275 years."
Nabholz, who also serves as the director of choral activities for Mississippi College, says he attributes that to Handel's genius, the uplifting music and the words in the piece. Fortunately for the monolingual among us, "Messiah" is entirely in English, and Nabholz says that even those who are unfamiliar with classical music will recognize tunes within the program.
"They're almost ubiquitous in our culture around Christmastime," he says. "Whether you're shopping or riding in your car and turn on the radio, you're going to hear portions of it. ... We're just dealing with the portion having to do with the birth (of Jesus), and really, it's the most popular portion because it's done so often at Christmastime, and it concludes with the big Hallelujah chorus, which is known around the world."
The music holds a special place in the Mississippi Chorus' history, he says, as the first piece that it performed when it launched in 1989.
"It really is an old friend of that chorus, and they love to perform that work," he says. "They do it very well, so I think coming back to it this year—whether we will do it every year is still to be determined—it's great to come back around."
The concert has moved to a larger venue this year to accommodate more people and will feature the Grande Chorus, which combines all of the Mississippi Chorus' members, including the Master Chorale and the Mississippi Youth Chorale. The chorus has been preparing for the program since it completed "Love, Music, Memory: Sing Anything (Alzheimer's Stories)," a series of concerts benefitting Alzheimer's research, in October.
The program will also feature guest soloists Amy Pfrimmer, a soprano from New Orleans; alto Viola Dacus, who is the assistant professor of music at Mississippi College; tenor Jos Milton, a music professor at the University of Mississippi; and bass Patton Rice, the director of vocal music for the Mississippi School for the Arts.
"It really is just a great thing to hear that many voices singing together in harmony," Nabholz says. "I think choral singing is a great community activity, and that's one of the reasons that we exist: to bring the community together around great music."
The Mississippi Chorus performs Handel's "Messiah" at 3 p.m. and 7:30 p.m. on Saturday, Dec. 16, at Woodland Hills Baptist Church (3327 Old Canton Road). Tickets are $25 for adults, $5 for students, and free for ages 12 and under. For more information, visit mschorus.org.
More like this story
More stories by this author
Like independent media outlets around the world, the Jackson Free Press works hard to produce important content on a limited budget. We'd love your help! Become a JFP VIP member today and/or donate to our journalism fund. Thanks for considering a JFP VIP membership or one-time support.