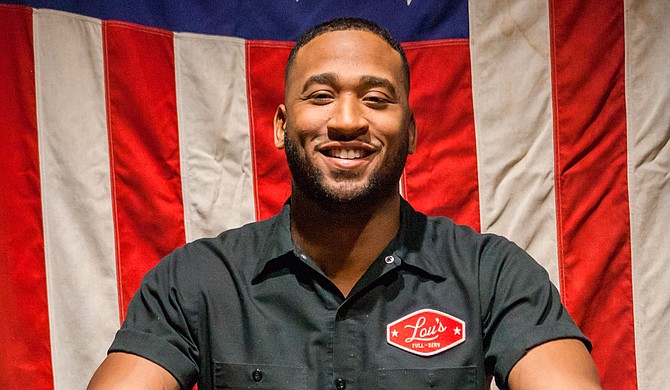 For Jeremy Loving, who works as a bartender at Lou's Full-Serv in Belhaven, creating an atmosphere for his customers is a major part of his job. He says he strives to incorporate his personality into every customer's experience.
"When people come and sit down to have a drink or have a meal, they usually want to have a conversation with it also," Loving says, "so being a bartender, you want to bring a good vibe to the conversation."
Loving graduated from high school in Hattiesburg, and then decided to follow in his parents' footsteps and attend Jackson State University, though he stopped attending in 2012. In 2014, he applied for a job at Lou's Full-Serv, and has been at the restaurant since its 
opening that year.
Because of his personal drinks' popularity with customers, some of his recipes have now been added to the restaurant's menu, including the "Pinehurst" drink, which has simple syrup, pineapple and cranberry juices, and Cathead vodka.
While Loving takes pride in his knowledge of bartending, he says the key to being a good bartender sometimes has more to do with knowing your customer rather than knowing the drink.
"Being a bartender, you have conversations with people," Loving says. "And sometimes people do a little bit of confessing, but it's bartender etiquette to always be sworn to secrecy."
Loving says that the little connections he makes with the customers is what he enjoys about his job the most.
"I think my favorite part ... is just getting the chance to meet new people every day, getting the chance to make relationships with strangers," Loving says. "Coming into work here, you never have the same thing happen everyday."
He says that once he gets to know a customer, he usually has their drink ready for them before they've taken a seat.
The restaurant is currently undergoing an expansion, which will add another large area to seat customers. Loving says he looks forward to the restaurant's expansion, and the prospect of not only making more drinks, but meeting new people.
For more information about Lou's Full-Serv (904B E. Fortification St., 601-487-6359), find the business on Facebook or visit lousfullserv.com.