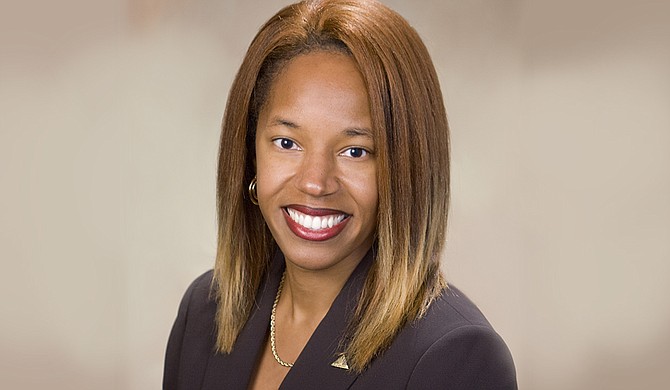 The Ole Miss Alumni Association will present Candie L. Simmons, who is the senior vice president and regional marketing director for Regions Financial Corporation in Jackson, with the Outstanding Young Alumni Award as part of Homecoming 2017.
The award recognizes alumni who have shown exemplary leadership in both their careers and dedication to the University of Mississippi throughout their first 15 years of alumni status. Simmons is among seven UM alumni who will enter the school's Hall of Fame at a reception on Friday, Oct. 13, at 6 p.m. in the Gertrude C. Ford Ballroom at The Inn at Ole Miss.
As regional marketing director for Regions, Simmons manages advertising and sponsorships for all of the bank's locations in Mississippi. She also provides sales support for local bankers, and serves as the community and public-relations representative for the region. At age 37, she is the youngest African American on the bank's Mississippi Executive Leadership Team and the youngest senior vice president in Mississippi.
Simmons was born in Ocean Springs and attended Ocean Springs High School before enrolling at the University of Mississippi, where she graduated with a bachelor's degree in business administration with an emphasis in marketing in 2002. She began working as an admissions counselor for UM in 2003 and became the assistant director of alumni affairs nine months later. She left UM to work for Regions in 2006.
"I loved working for Ole Miss and the experience was valuable, but I always wanted to be involved in corporate America from the time I started college," Simmons told the Jackson Free Press. "Growing up I saw a lot of business people around me and on television, wearing a suit to work, and wanted to be in a position where I could have my own office and dress up for work.
"I wanted to major in fashion merchandising at first and be a buyer for a major department store, but Ole Miss didn't have a degree for that. It did have classes emphasizing it, though, so I decided to major in marketing and take fashion-merchandising courses. While attending courses and networking, I decided I wanted to be in a business setting and took a job with Regions."
She started at Regions as the marketing manager for north Mississippi and became the regional marketing director for the entire state after Regions merged with AmSouth in summer 2006. She relocated to the Jackson branch in December of that year.
Mississippi Business Journal named Simmons on its "Top 40 Under 40" list in 2009 and as a top-10 finalist on its "Top 50 Leading Business Women" list in 2013. Regions selected her for its Leaders at All Levels III Class in 2017. The American Heart Association named Simmons to its executive leadership team for 2018.
Simmons volunteers with the Diabetes Foundation of Mississippi's Camp Kandu for children with diabetes, and serves as a board member and treasurer for the Cure Sickle Cell Foundation. She is also on the boards of Make-A-Wish Mississippi, the National Ole Miss Alumni Association and the Community Foundation of Greater Jackson, and is a member of Alpha Kappa Alpha Sorority Incorporated and the International Community Ambassadors Network.
More like this story