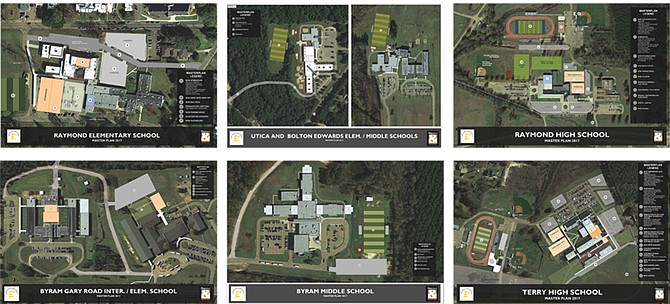 JACKSON — Mississippians who live in the Hinds County School District lines, including Bolton, Byram, Edwards, Raymond, Terry and Utica, will vote to approve or disapprove a bond issue for their public schools on Tuesday, Aug. 15.
Sen. David Blount, D-Jackson, and Rep. Jarvis Dortch, D-Jackson, represent citizens who live within the HCSD boundaries and urged voters to approve the measure.
"As legislators representing the Hinds County School District, we will always stand up to support our public schools," Blount and Dortch said in a joint statement. 
"We work so the state of Mississippi does right by our schools. Our children depend on local support too. We support the school bond measure that voters will voice their opinion about on August 15, and we encourage residents to vote YES. The school bond plan will NOT raise taxes and will continue the progress we have made across the district since the last bond issue was passed in 2003. We urge people to vote YES at the polls on Tuesday, August 15," they said in the statement.
The referendum vote could authorize the Hinds County School District to issue a general obligation bond of no more than $59.9 million for constructing and repairing buildings, facilities and athletic fields.
Specific projects listed on the sample ballot include equipping school buildings with computers to meet the 1-to-1 technology directive to ensure a computer for each student. It would also pay to build, remodel or repair school buildings, athletic fields, and facilities at eight of the elementary, middle and high schools in the district.
The school district has a specific 55-project plan it will begin work on if the bond issue passes. The school district's website says the project will start on or before March 8, 2018, and will only take three years to complete.
Voting to approve the bond issue will not increase school or ad valorem taxes for residents who live in the school district. State law requires school districts to hold an election for residents to approve bonds, including the fixed maximum amount listed on the ballot. Hinds County School District must get permission from voters before using those funds.
The bond issue would cover improvement projects at Bolton Edwards Elementary/Middle School, Byram Middle School, Gary Road Elementary School, Gary Road Intermediate School, Raymond Elementary School, Raymond High School, Terry High School and Utica Elementary/Middle School.
Email state reporter Arielle Dreher at arielle@jacksonfreepress.com and follow her on Twitter at @arielle_amara.