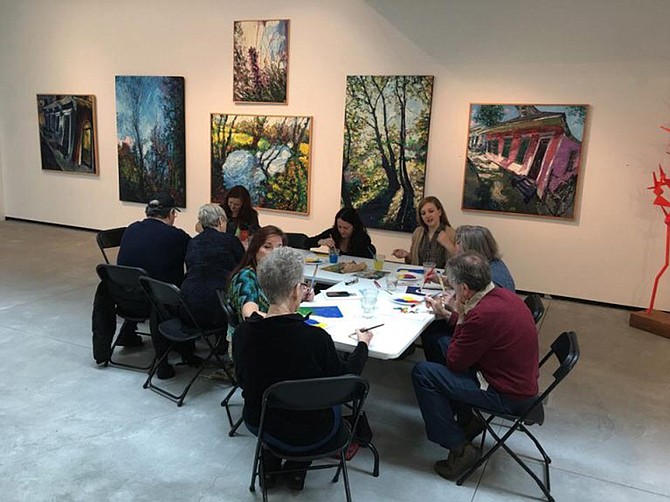 On the last Wednesday of each month at the Mississippi Museum of Art, participants in one of the museum's classes paint colorful swirls and patterns in an effort to, in a sense, jog their memory.
The Art in Mind program at the Mississippi Museum of Art, which the museum does in collaboration with Alzheimer's Mississippi and University of Mississippi Medical Center's The Mind Center, aims to help those experiencing memory problems or who are diagnosed with Alzheimer's through art therapy.
Alzheimer's Mississippi Program Director Andi Agnew says Art in Mind is based on a program at the Museum of Modern Art in New York that has now gone national.
"(Art in Mind) started out as an early-stage Alzheimer's program," Agnew says. "We've expanded it in the past year to include anyone who is older and maybe experiencing memory loss or are worried about 
memory loss."
The program is limited to 12 participants so that the group is small enough for participants to get one-on-one attention.
The instructor for the program, Susan Anand, is a licensed art therapist, an instructor at University of Mississippi Medical Center in the psychology department, and a marriage and family 
therapist.
Anand says the program helps those with memory problems make connections.
"We'll have people end up saying they want to go home and get some art supplies," Anand says. "We'll see people open up and smile more. The whole process helps people make connections with other people, make connections with art and with the materials. It's helping people ... communicate."
The Alzheimer's Association estimates that 53,000 Mississippians have Alzheimer's, and the disease is the sixth leading cause of death in Mississippi.
Agnew says the association wanted to do something fun for those suffering from memory problems that would include family members and was not just about caregiving.
"Art is a good way to stimulate the mind," Agnew says.
The program is designed for those experiencing memory loss to get social interaction as well as make connections to past memories through art.
Agnew says those who have loved ones with Alzheimer's disease learn to live in the moment with them, so programs like Art in Mind can help.
"Particularly into the later stages, we encourage people to be with their loved ones—sit with them, be with them, listen to music together, do art together if that's something they are able to do," Agnew says. "Alzheimer's kind of forces you to enjoy life moment to moment."
Anand puts an emphasis on the connection and communication aspects.
"They continue to communicate with their artwork and with the people around them," Anand says. "I'd say connection is a big part of it. It helps them to communicate. People with memory loss tend to isolate and question whether they can contribute anything worthwhile."
The Mississippi Museum of Art (380 S. Lamar St., 601-960-1515) hosts the Art in Mind program the last Wednesday of each month from 10:30 a.m. to noon. The next event is on Aug. 23. For more information, visit msmuseumart.org or call Andi Agnew at 601-987-0020.