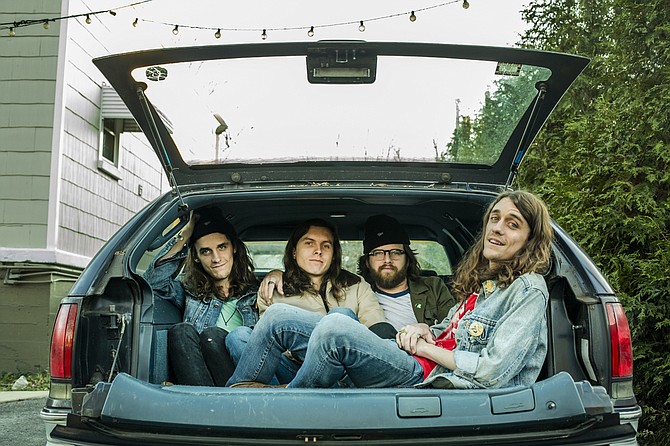 It's been four years since Jackson-native rock act The Weeks released a true follow-up to their 2013 album, "Dear Bo Jackson," although the band has been far from quiet. Vocalist Cyle Barnes, his twin brother, drummer Cain Barnes, bassist Damien Bone and guitarist Sam Williams have been on the road for much of their 11-year career, and it's that fact that both delayed and inspired their latest album, "Easy," which came out April 7.
The Weeks wrote "Easy" while they took a year off from touring—a stark contrast to "Dear Bo Jackson," which they wrote entirely on the road and recorded in a two-week span sandwiched between months-long tours. However, that break wasn't always the plan.
"With this record, we started recording it in late 2014," Williams says. "We still were touring 'Dear Bo Jackson,' and we hopped in the studio thinking that was the right move. But about two weeks into those sessions, we kind of realized, 'If we keep going and put this record out in three months or whatever, we're going to have to get right back on the road. That'll be three or four years straight; it's going to be six years before we get a stop.' We were like, 'Let's pump the brakes a little bit.'"
After finishing a two-month European tour, The Weeks got off the road for most of 2015, using the year to mend band friendships and reflect on their own lives. Williams says that time also allowed them to consider The Weeks as a band—what they do well, what they do poorly and what they could learn from past releases.
"We'll be buried with our records, but it's good to take as much of an objective step away as you can and say, 'OK,'" he says. "Maybe one of the things, if I had to be critical of our records, is that ... we like so many different types of music, and when you play this long with each other, you get really good at a lot of different styles of music. So we were like, 'You know what? We're a rock band first.' We always have been, and even if we play country, soul, R&B or anything like that, we always, in the band we call it 'Weeks-ing it up.' We put a rock twist on it. But with this one, we said, 'Let's just make a rock record.'"
Williams says this is also the first record where the band had time to write more than the 10 or so songs on the final album. In the past, The Weeks approached the album with a loose blueprint: two to three down-tempo songs, one or two mid-tempo songs, an epic closing track and so on. With "Easy," they would take four or five nights a week to just hang out, rehearse and write at the band house in Pegram, Tenn., a small town west of Nashville, where the band is currently based.
"We probably wrote 20 or 30 songs, and I'd say 20 or so got really fleshed out," he says, "so we were kind of able to form whatever record we wanted. The big thing was keeping it slow. We went to the studio to kind of pair it down, and we really took our time with everything."
As different as the writing process on "Easy" was, Williams says the sound of The Weeks is still the same at its core, despite the fact that the members have never discussed what that sound should be.
"You know, those things people say, 'This is what The Weeks are,' they're kind of right," he says with a laugh. "But that's one thing that's nice. A lot of bands that have been around since they were 14 or whatever, they change their band name, they disassociate themselves with the stuff they wrote in high school, and they 'grow up.' But we don't. Part of what I love is that our first record came out when we were 16 or 17, and we have the same band name. It's on our Spotify. It's right there."
The Weeks' record release show is at 10 p.m., Friday, April 28, at Martin's Restaurant & Bar (214 S. State St.). The Lonely Biscuits also perform. General admission is $18, and VIP admission is $38. For more information, visit martinslounge.net.
More like this story
More stories by this author