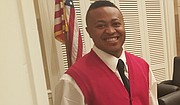 Jonathan Cottrell is running for the Ward 6 Jackson City Council seat in the May 2, 2017, Democratic primary.
Polls are open 7 a.m. to 7 p.m. His answers to the JFP candidate questionnaire are published below, verbatim.
Bio Information
Name: Jonathan Cottrell
Age: 29
Job and Employer: Out Reach Worker at Mississippi Department of Health
College(s) and degrees: Antonelli College- Associated Degree in Budget Reporting
High school: Wingfield High School
Spouse: NaKesha Cottrell
Children: Tatianna Cottrell
Previous political office? None
---
1. Why does your ward/district need you specifically right now?
South Jackson has been neglected for some time now. I am here to be the voice for the community, especially the elderly and youth. Also, it is time for my generation to step up and add on where we are by bringing fresh ideas and creativity, such as implementing technology to the Metro Jackson area.
2. Provide one or two examples of when you have been an advocate for your district/ward in your personal or professional life. What was the result? 
The "Million Kids March" was held for the second year. The purpose of this effort was to (1) give the youth an outlet to express themselves through music, spoken words and communication within the community and (2) provide a positive event for youth to attend.
3. In the past year or so, what was the most important vote in council affecting your district/ward. How would you have voted and why? 
The "Ban the Box" measure, I would have voted in favor of the measure. This measure was important to my district and the entire city because it helps reduce recidivism and improves the lives of Jackson, MS.
4. What are the top three most pressing issues for your district/ward? Please provide potential solutions.
(1) youth initiatives-implement programs for the youth (4-17 yrs) as well as young adults (18-25 yrs); such as movies theaters, bowling alleys, skating rinks, recreation centers, parks with working equipment, and positive life learning events (speaker to discuss life lessons, tutoring, mentoring camps (male and female).

(2) business development- dispel that belief that south Jackson has a high crime rate and introduce options for those wanting to redevelop the area.
(3) infrastructural improvement-
(4) pollution for profit- which involved cleaning up one street once a month to increase recycling efforts in Ward 6.
5. If you could propose one ordinance that would greatly improve the quality of life for people your district/ward, what would it be?
Moratorium on new liquor store opening in the ward.
6. Too many young people in Jackson end up as suspects or victims of violent crime. What are your specific ideas to assist with city crime prevention that do not involve the police directly?
Aid in parks and recreation development; increase interaction between positive role models and the youth; opportunities/jobs so young adults will have alternatives to crime.
7.  Provide three examples of what you believe are the most critical improvements needed in the entire City of Jackson.
(1) The City of Jackson is an awesome unique city, however; its image is not as positive as it should be.
(2) Infrastructure
(3) Jobs- private section and better jobs
8. What needs to happen to improve the city's infrastructure?  
First, we must take into consideration that we have 20-year-old pipes. Due to the age of the pipes it will take a carefully thought out plan to repair them with inconvenience the citizen of not have water for a short or long period of time. Once the plan is implemented correctly this will help with the infrastructure. Also, we must fix the pipes and streets and stop doing the patching jobs.
9. What experiences qualify you for this position?
I have worked for the State of Mississippi for 10 years, through my experience in the field, I have gained first-hand experience that allows me the capacity to deal with major issue facing the city.
10. What do you think needs to happen to improve public education in Jackson?
Public education- the school board should be elected instead appointed for more accountability. More school and city initiatives for housing to recruit quality teachers who are willing to live in the city limits.
11. What do you think about the One Lake project? Please detail any concerns.
I think the One Lake project for developers and could be great for the Metro-Jackson areas if there was a way to ensure that the future taxes could yield direct benefit.
12. How can city council and the mayoral administration improve its relationship?
Respect and communication is vital. They need to learn how to disagree with respect for one another and have an open line of communication. When making decisions take themselves completely out of the equation and focus on what is going to best for the citizens of Jackson.

More stories by this author
Like independent media outlets around the world, the Jackson Free Press works hard to produce important content on a limited budget. We'd love your help! Become a JFP VIP member today and/or donate to our journalism fund. Thanks for considering a JFP VIP membership or one-time support.