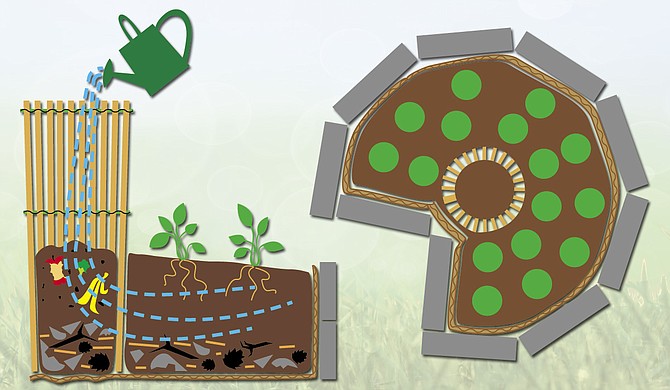 I come from a long line of gardeners. I grew up helping my family work their many fields and beds each spring and summer, and learned that few foods taste better than the ones you grow yourself. I've always wanted my own garden, and this year I finally moved into a home with a backyard to put one in. The only trouble is, it's very small, and only a tiny section gets adequate sunlight to grow the kinds of plants I want.
So with limited options (and a more limited budget), I set out to find the perfect compact and cheap solution for my inner farmer.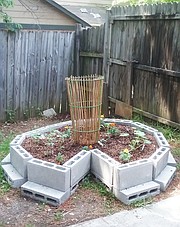 Enter the keyhole garden.
That type of garden is a great option for those of us with small backyards or small budgets. It's named for the "keyhole" shape that the composting basket and the cutout make, which allow easy access. The garden basically consists of a retaining wall in the shape of a circle or square with a "slice" taken out of the side and a basket in the center for compost.
You can make a keyhole garden with all kinds of materials: stone, wood, plastic—whatever best fits your space, budget or aesthetic needs. I'm going to outline how I made mine, but feel free to experiment with other materials.
Materials
26 lightweight cinderblocks (They're narrower than conventional cinderblocks)
3 large cardboard boxes
1 large tomato cage
2 12-packs of bamboo stakes
96 cable ties
10 40-pound bags of garden soil
Several old ceramic pots
Directions
Assemble the compost basket by cutting the bamboo stakes in half and attaching them with cable ties (wire would work well too) to the inside of the tomato cage about 3/4 of an inch apart.
Set cinderblocks in two layers in the shape of a 5-foot circle, taking a wedge out that almost reaches the center.
Line the inside of the bed with cardboard, making sure the sides are especially well-covered.
Fill the bottom layer with "stuff" such as broken pottery, bricks, rocks, sticks, pine cones, pine straw (avoid hay) or anything on hand that will make the bottom layer uneven so the garden will drain.
Place the compost basket in the center with the stakes going as deep into the ground as possible.
Fill in with dirt. The soil should slope gently away from the basket in the center so water and nutrients will flow out from here.
Plant! Some plants that grow well when planted in late spring are summer squash, peppers, potatoes, beans, peas and tomatoes. You can buy seeds or seedlings from many local lawn and garden stores.
Add water and compost materials to the basket once or twice a week, and the nutrients from the compost will be carried to the surrounding soil.