JACKSON — Jackson State University must brace itself for changes, from financial policies to a new president, in the wake of news that it has nearly exhausted its cash reserves.
JSU President Dr. Carolyn Meyers announced her resignation on Oct. 25, and by the following Tuesday, the Mississippi Institutions for Higher Learning had announced an interim president: George W. Bush's former secretary of education, Rod Paige, who presided over "No Child Left Behind" education policy during his tenure.
Paige is a JSU graduate and former head football coach for the university. He has served on the Thomas B. Fordham Institute's Board of Trustees since 2005 and earlier this year was indicted into the National Alliance for Public Charter School's Hall of Fame.
"We are so pleased that Dr. Paige is going to serve as Interim president," Dr. Doug Rouse, president of the IHL's board of trustees. "An alumnus of the university, we know he will lead with a servant's heart and guide the university well through this transitional phase. He has a wealth of experience on all levels of education and we are very fortunate that he is going to share his time and considerable talents with us."
The primary motivator for IHL's intervention is the current budget crisis at the university, IHL says.
Before the Paige announcement, IHL announced that it was bringing in a consulting firm to shore up the JSU's finances. The reserve funds are designed to protect the university from unforeseen drops in revenue or state funding, both of which have occurred in the last year.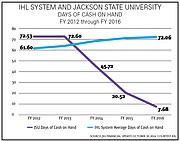 "[W]ith just over a week's worth of cash on hand," Associate Commissioner for Finance and Administration John Pearce told the state's college board last week, "this puts JSU in a relatively risky position with a relatively small margin of error in managing their budget." (IHL is also known as the state's college board.)
As a result of the poor financial outlook for the university, the IHL also tabled JSU's proposed agreement with a developer to build new dormitories on campus, perhaps temporarily.
The Meyers Era Ends
Meyers did not give reasons for her resignation in her letter to the college board. "Out of genuine love and pride in the university," Meyers wrote, "effective Nov. 1, 2016, I am offering my resignation from the position of President of Jackson State University.
"As such I am prepared to vacate the residence within thirty days as prescribed in my contract."
Meyers served as JSU president from 2011 to the present, moving to Jackson from Norfolk State University in Virginia where she also served as head of the historically black college.
Dr. Glenn Boyce, the head of IHL, said in a statement that the board had accepted Meyers' resignation. "We appreciate Dr. Meyers' service to Jackson State University and wish her well in future endeavors," Boyce said.
In her letter, Meyers also made it clear that she expects a paycheck beyond her last day in the job.
"As the university has done for anyone leaving for any reason—voluntary or otherwise—and in accordance with the JSU handbooks (which precede my tenure), I expect that I would also receive an extra thirty days of compensation as well as compensation for all accrued benefits contained therein," Meyers wrote.
Blanton said on Nov. 1 that state employees, which includes university employees, all receive this compensation." IHL said she would get it.
IHL to the Rescue?
The IHL Board of Trustees, after reviewing financial data Pearce provided about the low cash reserves, decided to hire the financial consulting firm, Matthews, Cutrer and Lindsay, to oversee day-to-day financial decisions at the historically black public university.
Boyce said in a statement that the IHL monitored the finances of all the state's public institutions, and has been warning JSU about its budget problems.
"Since May 2014, the Board of Trustees, the Commissioner of Higher Education and IHL Staff have communicated concerns over the university's financial position to Jackson State University personnel, including the Chief Financial Officer and President," Boyce said in the statement.
"The annual financial statement for FY 2016 received by IHL Staff in August 2016 indicated that the situation has escalated from a concern to a level serious enough to require immediate intervention," he added.
"Escalated" might be too gentle a word. Over the last four years, JSU has continued to pull from its cash-on-hand funds to cover operational expenses, and each year spent whatever cushion it had until its reserves were only enough to cover a little over a week in expenses. Combine that with an increased debt burden due to expansion and renovation, and the school had slowly started to sink below a water line it could not expect to meet without increasing revenue. The IHL met with JSU last year to discuss poor financial reports but took no action then.
For every $1 that the school brings in, it owes another $8.74 in debt due to bonds. Ever since fiscal-year 2012, the school has continued to dip into its reserves, rather than operating revenue, to square up its annual debts.
In 2012, the university had $37 million in cash reserves. That amount dipped by a million in 2013 and then dropped by $13 million in 2014. The next fiscal year, 2015, saw another large drop of $13 million down to $10 million on hand. For 2016, IHL estimates that the unaudited cash reserves for JSU total around $4.2 million—almost $33 million down over four fiscal periods.
Pearce stated that the other universities in the IHL system did not participate in a similar spending pattern. He used a graphic to show that the problem with JSU's cash reserves is unique to that university compared to the reserves of other state universities.
JSU saw a sharp drop during 2014 that has continued to the present day.
"At the same time, Jackson State started at a position that was higher than the rest of the schools combined, and then started a rapid decline in 2014," Pearce said.
IHL expects the consulting firm to guide JSU back from the brink.
"Matthews, Cutrer and Lindsay is a respected firm with the experience necessary to conduct the review and identify ways to correct the structural budget imbalance," Boyce said. "An issue of this magnitude may take several years to correct. Throughout the process, our absolute goal is to ensure that students are a top priority."
Email city reporter Tim Summers Jr. at tim@jacksonfreepress.com with information on this story.
More like this story