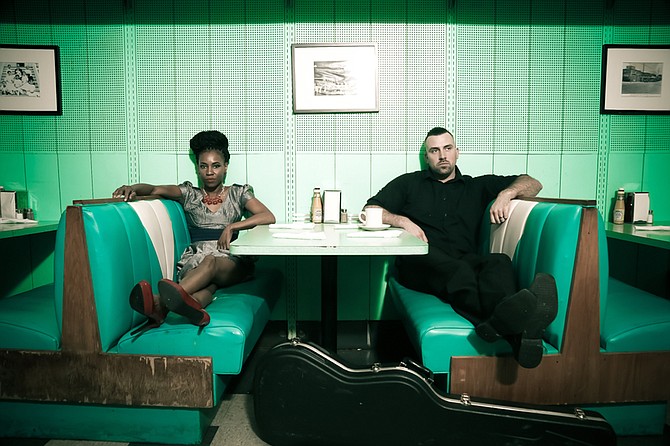 Pursuing music professionally is a daunting task, but for folk-soul duo Teneia, it's helped that both members are fully committed to the music—and to each other.
When Muscatine, Iowa, native Ben Eichelberger first met his future wife and band mate, the timing didn't quite work in their favor. Teneia Sanders-Eichelberger, a native of Jackson and the duo's namesake, was performing at a wine bar in Phoenix, where she moved after living in Louisville, Ky., from 2005 to 2009. Not only was she seeing someone at the time, but also she already had a backing band. However, before long, the two became friends and eventually began dating and playing music together.
"I always tell people that I snuck in on bass," Ben says joking, "because we had started dating at that point, so I was like, 'Hey, you know, bass would sound really good with your trio!'"
After Teneia's previous group disbanded, she and Ben hired an electric guitarist and a drummer to fill out a four-piece. Unfortunately, it became clear over time that the newest members weren't as dedicated to where the project was going.
Ben says: "We were like, 'We want you with us from the start. Can you commit before we have anything big here?' It was just that conflict of what comes first—the chicken or the egg. Do you hire players after you've made a name for yourself, or do you have people who say, 'OK, I'm with you'?"
While they originally intended for duo performances to be a temporary fix, Teneia says they realized that the music still sounded full and interesting. Their latest album, "No Fakes," which they released in November 2015, marks several new points in their career, as their first record as husband and wife, which they announced through a video for the song "Rest of My Life" in December 2014, and first record as a permanent duo.
Teneia says: "The coolest thing is that people say, 'I loved all the other CDs, but this one I love.' They love the duo format because it's just very cool and intimate. ... We wanted to do something simple with this record, and it's just very singer-songwriter-y, but it's so much fun for us. It's really us just saying, 'OK,' not to add a whole bunch of stuff but to really strip it down and just play music together."
Two more major changes preceded "No Fakes"—the band's full mobility and its move to Jackson. Ben says they didn't want their music to only be known in and around Phoenix, and told fans that they were thinking about purchasing an RV and hitting the road full-time. After several fans expressed an interest in helping, the duo looked to crowd funding. They launched a one-month campaign in April 2015 and successfully raised $22,000. The band set out in their new travel trailer from June to November, when they came to Jackson to spend Thanksgiving with Teneia's parents and plan their next move. Then, she says, it just clicked.
"We have a team here, people that were like, 'What do you guys need? How can we help you?' Things just started to fall into place, and we realized that we need to have roots here in Jackson and (for) this to be our base, even though we're traveling more," Teneia says.
Ben says he hopes seeing them step out and pursue music together will also inspire listeners to follow their own ambitions.
He says: "For us to kind of take leap of faith, go out and buy the RV and say, 'Hey, we're going to try this and see what happens,' we're kind of encouraging people to live the life they want to live—not in an irresponsible way by any means, but to aspire for the things they've always wanted to do, daydream a bit and reach for some of those goals."
Teneia's "No Fakes" is available now on iTunes, Amazon and other digital retailers. For more information, visit teneia.com.
More like this story
More stories by this author