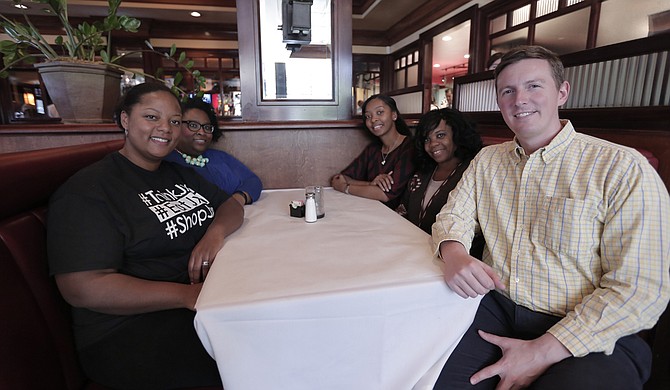 JXN Foodies founder Carlyn Hicks says one day in 2015, as she was walking through Metrocenter Mall, the fact that it looked like a ghost town struck a chord with her. But she saw some hope.
"I looked around and saw (soul food and African restaurant, Rehoboth Cafe) that had just opened up," she says.
"I have a very eclectic group of friends with diverse food interests, and I wanted to know how many of my Facebook friends had even heard of it. I started messaging folks, and no one had, so I said, 'You know what, let's get off Facebook and have some face-to-face time with each other and fill up the food court at the Metrocenter.' And 
we did." (That restaurant is now closed).
In early February 2015, 41 people gathered together at the mall. The reunion ended up including people from different lists of friend groups that Hicks and her original invitees didn't personally know.
It turned into an opportunity for people to get together, eat, socialize and patronize businesses, and help the city's economic development at the same time.
"Soon after, people started asking me, 'Well, when is the next one?'" Hicks says.
One Sunday afternoon soon after that, Hicks was invited to speak with talk-radio show host Rev. C.J. Rhodes on WRBJ 97.7 FM as the dialogue on Facebook continued to grow. The show featured how Jackson residents needed to understand the importance of supporting businesses within city limits, and what that local support means for the city and its people.
Then, the conversation shifted to her favorite places to eat and shop in Jackson. "If you are conscious about your choices, you wouldn't have to leave the city limits for anything," Hicks said during the radio interview. "There is something there that meets your needs; it is just a matter of knowing where to shop to get it."
People started calling into the radio show and asking for recommendations on where to eat and shop, responding to the initial conversation between Hicks and Rhodes. The official Facebook group, JXN Foodies, took off from there. The once informal gathering of friends and friends of friends turned into a social media hub and weekly event for Jackson locals.
Hicks started the viral foodie hashtag #ThinkJXN and #EatJXN last year.
She says that Jacksonians have the power and responsibility to make the city all it can be, but to do that, they must invest in it.
On businesses leaving the city, she says: "We can blame the mayor, we can blame crime, and we can blame all these things, but the truth of the matter for corporations and businesses is that it comes down to numbers. If the numbers aren't there, the business doesn't stay. At the end of the day, (Jacksonians have) no one to blame but ourselves."
At press time, the JXN Foodies Facebook page currently had 2,129 members. On it, people share their experiences at restaurants and businesses they've been to, personal reviews and can post photos of must-try dishes.
The page is restricted to Jackson businesses only and is people-driven while also satiating the bellies of foodies in the city.
"It's a huge economic boom. Many smaller restaurants that are left out of the main stream media are getting attention, which is fantastic," says Jeff Good, who co-owns Mangia Bene with Dan Blumenthal. "It's coming from a grassroots level, and it is promotion and review done by the people who actual eat at these places.
"It's like a super localized Yelp, and it has just caught fire."
JXN Foodies meets every first Friday of the month for its "Foodie Friday Lunch-Ins." For more information, find the group on Facebook.