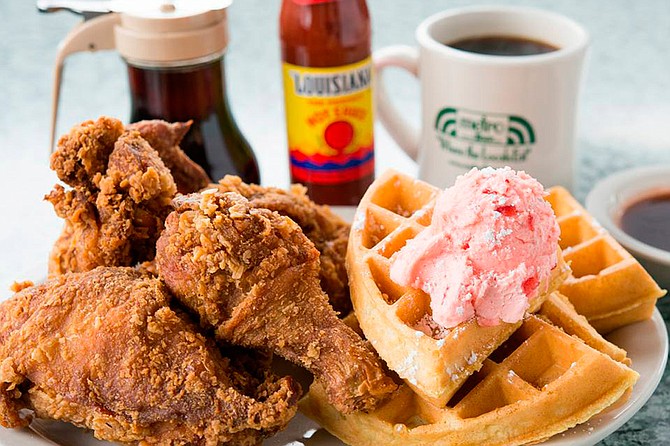 JACKSON — Charles Mosley, owner of Smokey Blues Bar-B-Q (2603 Highway 80 W.), opened his restaurant inside the former location of Sonny's Barbecue on June 27. The restaurant offers items such as riblets, rib tips, pork or beef ribs, chicken on a stick, turkey legs, sliders with brisket, chicken or pork topped with coleslaw, chicken and waffles, and catfish, along with bottled beer and a salad bar. Smokey Blues smokes its meat for eight to 10 hours rather than cooking it over a flame to ensure that the meat is as tender as possible.
"Here at Smokey Blues, our motto is 'where the smoke meets the blues,'" Mosley said. "We brought in a bunch of the experienced cooks from Sonny's to work with us and decided to smoke all our meat the way we do because we're aiming to become the best barbecue spot in town. We're serving all the classic barbecue items that everyone can enjoy here."
Smokey Blues also offers a breakfast special every day from 6 to 11 a.m., featuring pancakes, omelets, chicken and waffles and more.
The restaurant also does catering and offers special group delivery pricing during lunch hours. Smokey Blues also has a $6.99 lunch special, a three-meat special that comes with two sides and a drink for $13.99, and an all-you can eat special for $15.99. Smokey Blues also features live blues music every Friday and Saturday, and offers curbside drive-thru service.
Smokey Blues Bar-B-Q is open daily from 6 a.m. to 10:15 p.m. For more information, call 601-487-8653 or visit the restaurant's Facebook page.
George Wardlaw Featured at Fischer Galleries
Downtown art gallery Fischer Galleries (Dickie's Building, 736 S. President St.) is currently hosting works from Mississippi-born artist George Wardlaw, whose art will soon be featured in the upcoming Biennial Exhibition at the Center for Maine Contemporary Art in Rockland, Maine, from Nov. 4, 2016, through Jan. 24, 2017.
Wardlaw, 89, was born on a farm in northeastern Mississippi during the Great Depression and first emerged as an artist while attending the University of Mississippi. He joined New York City's avant-garde art scene during the 1950s and '60s and later became an art teacher at Yale University and the University of Massachusetts at Amherst. He still resides and works in Amherst today.
Other works by Wardlaw are currently on display at the Mississippi Museum of Art (380 S. Lamar St.) as part of its exhibition, "Reflections: Works by Modern Masters from the Collection," which is on display through Oct. 30.
Fischer Galleries also recently added displays for Jackson artist Carolyn Bogart DeLeo and Ft. Worth, Texas-based artist Maryann Brummer.
Fischer Galleries is open Monday through Friday from 10:30 a.m. to 4:30 p.m. For more information, call Fischer Galleries at 601-291-9115 or visit the Fischer Galleries website.
Earth Walk Shoes Moves to Lakeland Drive
Tammy Wellington, who has owned Earth Walk Shoes in Highland Village since 1998, moved her business to a new location on Lakeland Drive (2323 Lakeland Drive, Suite C, Flowood) next door to Primos at the beginning of July. To celebrate the store's opening, Earth Walk is offering $15 off any pair of shoes and holding a drawing for free shoes on July 30. Customers can register for the drawing in the store throughout the month.
Earth Walk Shoes offers brands such as Birkenstock, Dansko, Ecco, Vionic, Alegria and New Balance.
The store is open Monday through Saturday from 10 a.m. to 6 p.m. For more information call 601-981-1975 or visit earthwalkshoes.com.
More like this story
More stories by this author