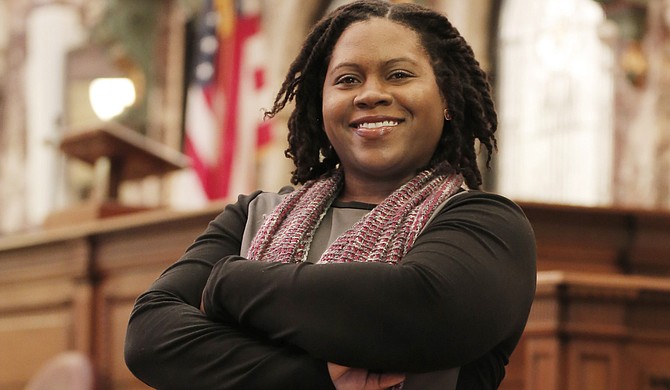 Imagine a person whose job is to herd cats and that those cats are also responsible for herding cats. That person would be a lot like Kristie Metcalfe, one of six staff attorneys assigned to the Mississippi Senate.
Metcalfe drafts legislation for seven different committees run by seven very different chairmen. Even though Metcalfe's job is nonpartisan, the legislators she works with must appease their constituents, interest groups and Lt. Gov. Tate Reeves, who presides over the Senate. "I like to mediate," Metcalfe says. "That's something I get to do a lot here because there are a lot of different groups who want input on bills. Different senators come from different perspectives, so I do what I can to make them see the things they have in common."
At age 34, Metcalfe is the youngest attorney on the Senate staff but has worked on a number of big bills, including sweeping criminal-justice reforms. That legislation passed and become law in July 2014, but Metcalfe's work wasn't quite done. "Once bills are passed, they never really go away. There's always something that needs to be changed or tweaked with a big bill like that," she says.
The inevitability of change will come into sharp focus in the 2016 legislative session, the first in a new four-year term, when it's possible that Senate committees will have different chairmen and, therefore, Metcalfe will have to help the new leaders find their rhythm. This will be Metcalfe's fifth session since joining the Senate in December 2011, just before the start of the last term. Before heading to the Senate, Metcalfe clerked with the Mississippi Court of Appeals and the Mississippi Supreme Court.
Metcalfe was born in Amory, Miss. and grew up in Sulligent, Ala. She majored in political science and English at Mississippi University for Women and went to law school at the University of Mississippi, where she graduated in 2010. As a native Alabaman, she remains a loyal devotee to the Crimson Tide while her husband, Carlos Harris, roots for the Mississippi State Bulldogs.
Harris and Metcalfe, who have lived in Mississippi for 15 years, have a home in the capital city but she commutes regularly to Columbus, where Harris and two of their children, ages 11 and 8, live. Metcalfe's oldest stepson is 24. In 2012, when Harris was in the hospital for an illness, Metcalfe discovered Tunisian crochet, a hobby she now uses to de-stress. Every session, she crochets one throw to give to friends when they have babies.
Metcalfe, along with state Sen. Sally Doty and Rep. Angela Cockerham, participates in the N.E.W. Leadership program with MUW and the John C. Stennis Center for Public Service to encourage women to get involved with public service. The Capitol may be hyper-masculine, but Metcalfe enjoys her work: "It's a mad house during the session, but it's a lot of fun. You don't have time to be bored."
More like this story
More stories by this author