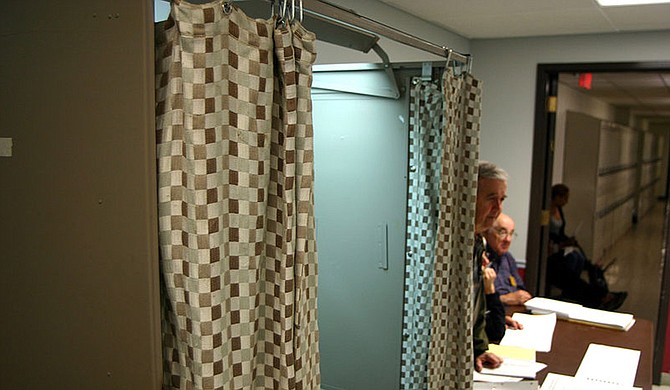 Hinds County Democrats say they oppose the proposed consolidation of voting precincts.
Jacqueline Amos, chairwoman of the Hinds County Democratic Executive Committee, submitted a formal letter to supervisors, four of whom are Democrats, saying that the "proposed changes would cause confusion, depress voter turnout, and further damage the public confidence in the conduct of elections in Hinds County."
In 2012 redistricting, the county merged eight precincts. Now, county officials are considering combining more because some polling locations no longer want to host elections and some are redundant. For example, two polling places sit across the street from one another on Bailey Avenue and could be consolidated to save the county money.
Amos pointed to other factors to consider, however. Each of the Bailey precincts is already split, and combining them could result in multiple split precincts, confusing voters and poll workers, she added. "There is no more drastic a change that can be made upon voting practices than to change the location of a polling place. To make such changes with little public input flies in the face of the Voting Rights Act, and invites litigation," Amos wrote in her letter to the board.
She argues that the proposed changes stem from the county's failure to purchase enough electronic poll books to use during party primaries. "The basis for consolidating was to help defray the cost of electronic poll books because the county didn't buy enough for both parties—that's on them," Norris told the Jackson Free Press.
District 4 Hinds County Election Commissioner Connie Cochran told the Jackson Free Press that the poll-book issue is only tangential to the need to consolidate precincts. Cochran, a Republican, said the county is currently about 50 poll books short. Because some precincts in Democratic-majority Hinds County have no Republicans voting in some primaries, Cochran said it would be unwise to spend $90,000 on new poll books and the necessary peripherals.
"If we had fewer precincts, we would have adequate numbers (of poll books)," Cochran said.
Supervisors voted to shutter one precinct on Tuesday at the Wahabi Shriners Temple on Interstate 55 South, where officials said it became too expensive to make it worth the temple's effort.
Federal law prohibits any voting changes within 60 days before an election, so any future closures will have to wait until after Mississippi's March 8 federal primary election.
Email news editor Ryan Nave at rlnave@jacksonfreepress.com.
More stories by this author