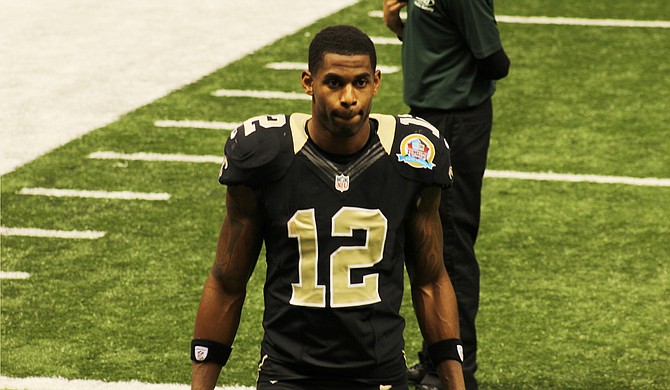 If you look back at the New Orleans Saints' 2006 NFL Draft, it has to go down as one of the best drafts in franchise history. The team hit on nearly every single pick from the first round to the seventh round.
Most fans will remember the 2006 draft for bringing first-round pick and second overall pick Reggie Bush to New Orleans, but the Saints also drafted safety Roman Harper in the second round, guard Jahri Evans in the fourth round and tackle Zach Strief in the seventh round. The team also selected Rob Ninkovich in the fifth round, who later became a star for the New England Patriots. Only two picks, wide receiver Mike Hass and cornerback Josh Lay, both in the sixth round, failed to make the team.
As great as those picks were, one of the best finds was the Saints' final selection in the 2006 NFL Draft, when New Orleans used the 252nd overall pick to take a wide receiver out of Hofstra University named Marques Colston.
This draft class, along with the addition of Sean Payton and signing of free agent quarterback Drew Brees, made the return to New Orleans after Hurricane Katrina one of the best seasons in the team's history. During the 2006 season, the Saints reached the NFC Championship Game for the first time ever.
The rookie Colston made an immediate impact, quickly gelling with Brees to make big plays down field. That season, the 6-foot, 4-inch, 225-pound wide receiver finished with 70 receptions for 1,038 yards and eight touchdowns. He is the first athlete in the history of the Saints to gain more than 1,000 receiving yards in his rookie season.
Colston's career-best season with the Saints was 2007. He posted 98 catches, 1,202 yards and 11 touchdowns, though the longest reception of his career came in his rookie season when he caught an 86-yard pass for a touchdown, the longest rookie reception in Saints history.
Thus far, Colston is the only player that the Saints have drafted out of Hofstra. He was a standout athlete at Susquehanna Township High School in Harrisburg, Penn., where he lettered four times in football and three times in track. He was also named All-Conference as a wide receiver and defensive player during his senior season.
At Hofstra, Colson was a four-year star and appeared in 37 of 40 games. He finished his college career with 182 receptions for 2,834 yards and 22 touchdowns. He was named All-Atlantic 10 his senior season and graduated with a degree in interdisciplinary studies.
In his first two seasons with the Saints, Colston posted back-to-back 1,000-yard receiving seasons with 19 touchdowns. He held the NFL record for the most catches in a player's first two seasons with 168 until Jarvis Landry and Odell Beckham Jr. broke the record this past season.
His production dropped off in 2008, as he appeared in just 11 games and produced only 760 receiving yards and five touchdowns in his second-worst season as a professional. That season was a bump in the road in a stellar career.
After his poor play in 2008, Colson turned his performance around in a big way. Over the next six seasons, he earned more than 900 receiving yards, and in four of those seasons, he put up 1,000 receiving yards. During the Saints' Super Bowl run in 2009, Colston caught 70 passes for 1,074 yards and nine touchdowns.
Last season was Colston's worst as a professional. He had career lows in receptions with just 45, yards with 520 and touchdowns with only four, and he only averaged 40 receiving yards per game.
After 10 years in the NFL, all with the Saints, ESPN reported that New Orleans would part ways with Colston in the next few days. The move to cut Colston would save the Saints a little over $3 million in cap space but add $2.7 million in "dead money," which is cap space that goes to players no longer on the team. New Orleans is already pushing nearly $25 million in dead money this season.
If we've already seen the final season for Colston as a Saint, he will still have left his mark on the franchise. He leaves as the all-time Saints leader in receptions with 711, yards with 9,759 and touchdowns with 72.
With 72 hook-ups for touchdowns, Colston and Brees also rank fifth as a duo for most touchdowns that teammates produced. As far as his 9,759 receiving yards go, if he didn't play again he would rank 49th in NFL history, and his 72 touchdowns would leave him tied for 36th place.
Nicknamed "the Quiet Storm," Colston never made a Pro Bowl team or All-Pro, which is perhaps one of the biggest snubs in the history of those honors. He would need 241 yards to reach 10,000 career yards, should he decide to play for another team, and at age 32, it wouldn't be out of the question that other teams would be interested in his services for next season.
If New Orleans does release Colston, that would leave just three players—Brees, fellow 2006 draft pick Strief and punter Thomas Morstead—on the roster from its 2009 Super Bowl team.
Follow Bryan Flynn at jfpsports.com, @jfpsports and at facebook.com/jfpsports.
More like this story