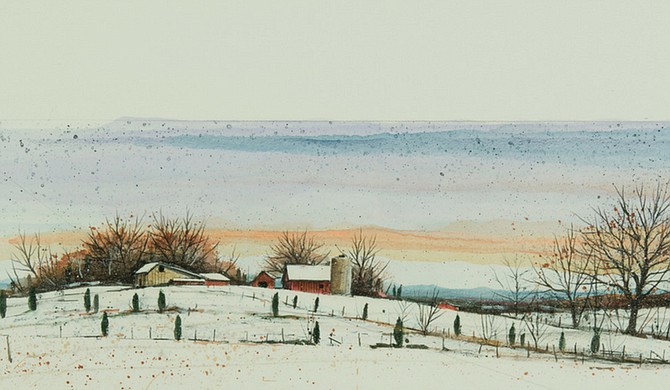 JACKSON — Three weeks into December, the spirit of the holiday season is all around, with the streets covered in lights, and red and green decorations on display. But tonight, Dec. 15, art will be among the holiday scenery as the Mississippi Museum of Art hosts "Vault After Dark" for this month's Museum After Hours event.
Typically, the third Thursday event includes contemporary art from local artists in a pop-up gallery. However, this month, the museum is letting the community take a peak at little-seen pieces from its permanent collection.
"We're going through the vault, and we're picking things that are either winter-time scenes or nightlife after dark," Director of Marketing and Communications Julian Rankin says, "… (the) kind of winter time as seen through the Mississippi art we have in our collection that people haven't seen in a while or maybe ever."
The event will have work from artists such as William Dunlap, Marita Gootee, Michael Goldberg, Mildred Nungester Wolfe and Christopher Gauthier. One of William Dunlap's pieces, "Winter Light, Blue Ridge II," depicts the countryside in winter, with greenery dotting the landscape and farmhouses standing against a backdrop of a blue, orange and white pastel sky.
The pop-up gallery will also showcase some newly acquired pieces, as well as a few that have not been on display in the museum yet. Rankin says that on average, most museums only display 5 percent of what they have in their collections. The Mississippi Museum of Art has more than 5,000 objects in its collection, but only a few hundred are on view at one time.
"The important thing for us is always showcasing what's being made in Mississippi at the time," Rankin says. "Museums traditionally collect on a slower timetable than art is being made, so that's why we always like to show contemporary artists (at Museum After Hours) because it's a way for us to show things by artists who are making things that might not necessarily be in the museum yet."
Rankin says the vault shows the artists who usually showcase their pieces at Museum After Hours where their work could go in museums if they continue to pursue their craft. Rankin says "Vault After Dark" is for anyone who considers him or herself creative, though—not just the artists.
"The purpose is for people to come and interact with the museum, and interact with each other," he says. "(They) might feel empowered to make their own art, (and) leave feeling more welcome and more aware that people are out in the world trying to make things better."
In addition to the gallery, MMA Executive Chef Nick Wallace will host a 'sipp Sourced pop-up menu called "Wilderness" featuring dishes such as crispy rabbit with heirloom carrots, broccoli raab, delta-rice grits and rabbit pan sauce; and a rooted cobbler with heirloom carrots, fennel, Chioggia, beets, kale, daikon, celery stock, mascarpone, white cheddar and a buttery crust.
The event will also feature a performance from the Mississippi Improv Alliance at 6:30 p.m. and an art lab, where visitors can create surreal and subconscious drawings following Salvador Dalí's paranoiac-critical method (a Surrealist practice that allows the artist to find new ways to view his or her surroundings). The Museum Store and galleries will be open until 8 p.m.
"Museum After Hours: Vault After Dark" is at 5:30 p.m., Thursday, Dec. 15, at the Mississippi Museum of Art (380 S. Lamar St., 601-960-1515). The event is free to the public, with drinks and food available for purchase. For more information, visit msmuseumart.org.