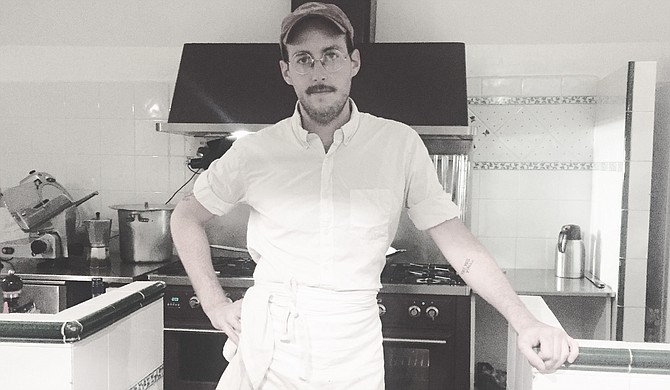 When Chaz Lindsay left his Belhaven home at the age of 18 for the Culinary Institute of America in Hyde Park, N.Y., he didn't anticipate that his travels would eventually land him back in Jackson.
However, after working in the kitchens of some of Manhattan's premier restaurants (Eleven Madison Park and Tom Colicchio's Craft, to name just a couple), Lindsay realized that in order to further his career, he needed to take a step back home.
"New York ... (is) never actually going to be your home, unless you were born there," he says. "The way that the economy is going up there, it's getting more and more difficult to live and produce food at a living wage. Even if you're at the top of the spectrum, it's still a struggle."
Lindsay says he realized that his variety of culinary experience might serve him well in the burgeoning food scene of his hometown, so he returned to Jackson in October. While he hopes to open his own restaurant in a few years, he accepted a position as the new sous chef at Table 100 in Flowood. He says his role at the restaurant is often to be the "middleman" between chef Mike Romhild and the rest of the kitchen staff.
"I'm supposed to support the chef and support his ideology, his belief in food, and how he wants the kitchen structured, but I'm also supposed to support the line cooks and help them along the way to make them stronger so they're executing what Chef wants," he says.
Table 100 has been known for its upscale take on traditional southern fare since opening in 2011, but Lindsay says that the restaurant's selection of charcuterie and smoked meats is what helps separate it from its Jackson peers.
"I think that anything Chef Mike does as far as charcuterie is excellent because he's from Germany, so it's in his blood," he says. "The guy knows how to work with pork. ... (The) pork bites are awesome because that's definitely a nod to his German heritage."
Lindsay has a little "Old World" experience under his belt, as well. In March, his culinary travels took him across the Atlantic to Casa Caponetti, an agro-tourism destination with a wholly self-sufficient farm-to-table kitchen, which was less than two hours north of Rome. He ran the restaurant, which only sourced food from the small farm onsite, for six months as part of a seasonal cooking program. "We were only open four days a week, and we grew everything on the farm—even the livestock," he says. "We would even hunt pheasants."
Nowadays, he says, consumers are more accustomed to the idea of small food producers, and there is much greater opportunity for a more conscientious and knowledgeable dining experience, even in a market like Mississippi. For example, he prides himself on being able to make fresh pasta, which he did "every single day for an entire year" in New York, he says.
"It's really a beautiful thing when you know that someone got there that morning and made it, and sourced it from hand-milled flour or locally grown grains, and put their sweat into it," he says.
He says that one area in which Table 100 excels is in supporting local Mississippi producers.
"We always have a daily fish special that is usually going to be something from the Gulf," he says. "We purchase a lot of catfish from Simmons Catfish Farm in Yazoo. I think the Catch of the Day is always going to be interesting, since it changes every single day. I really like seeing restaurants do that."
Lindsay hopes to contribute to what he says is an exciting trend in Jackson's restaurants: branching out and offering quality products that differentiate the scene from other "mid-sized Southern towns," he says.
For example, he says that compared to what Fondren is like now, it has grown leaps and bounds since nine years ago.
"It's really exciting to see things like that, whether it's Saltine and Babalu having a nice aesthetic and doing good food, or being able to hang out at The Apothecary and have a conversation about interesting and obscure spirits."
But as much as he enjoys dining in Jackson, Lindsay says he's most passionate about creating cuisine for others.
"Basically, I'm really trying to (help) people understand that there's a lot more that goes into the food than just showing up on a menu in front of you," he says.
Table 100 (100 Ridge Way, Flowood, 601-420-4202) is open Monday through Saturday from 11 a.m. to 10 p.m. and Sunday from 10:30 a.m. to 9 p.m. For more information, visit tableonehundred.com.