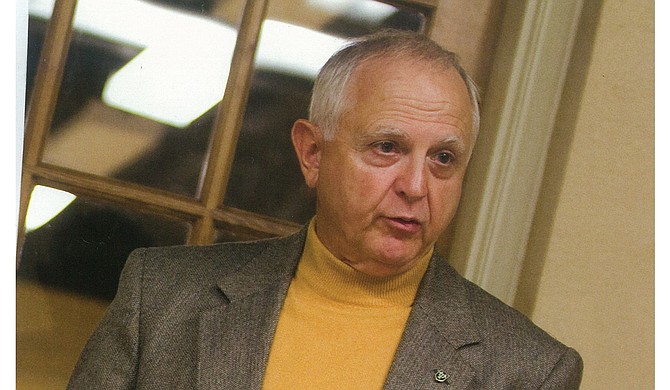 The book "Smoke Over Mississippi" details the life and legacy of William Penn Davis, a former president of the Mississippi Baptist Seminary and secretary of the Mississippi Baptist Convention's Department of Work with National Baptists who died in Jackson in 1989 at the age of 85. The subject isn't surprising, given Davis' stalwart work to further the fight for civil rights and racial reconciliation in his home state. The writer of the book, on the other hand, may seem like a head-scratcher at first glance.
Author Oren Renick is a professor at Texas State University in San Marcos, Texas, where he teaches courses on topics that are quite a jump from the subject he covers in "Smoke Over Mississippi" (Insight Press Inc., 2016, $16).
"My academic area is health administration, and the specific concentration for me now, as a faculty member, is health-care law and ethics," he says. "But you can glean from that description that a study on civil rights is a little far from my discipline."
Writing a book on Davis has been a pet project for Renick, all the same, dating back to the 1960s while he completed his graduate studies at Mississippi College. It was then that he met Davis after deciding to write his master's thesis on the mostly unknown civil-rights figure. Even then, Renick says he knew that he wanted to develop his thesis into a book about Davis, who quickly became his friend and mentor. Other than a journal article and a few presentations, though, Renick didn't complete the book for many years.
"Being very direct about it, it took me a period of time to find my voice in the story, in a book format, because there were several different approaches that I took through the years in attempting to get the manuscript completed for the purpose of publication," he says. "Every time, I was never quite satisfied with the approach, and though at one time I had a major national publisher very interested in the story, it still wasn't quite there."
Ultimately, Renick broke through the block, deciding that the best way to tell the story was the same way it was told to him. While "Smoke Over Mississippi" features plenty of additional research and interviews, he modeled the book after the conversations that he had with Davis, relaying the events in the way he experienced them.
"From that, I'm telling his story, but I guess I'm also, to some degree, telling my story, as a young Mississippian who is being mentored by a wise man," Renick says.
While there have been many books about the Civil Rights Movement in Mississippi, Renick says this story is distinct in that Davis is a counterpoint to the public picture of a Baptist preacher in that era, despite the fact that he worked within the system and had the support of many leaders within the MBC.
"In many ways, he broke the mold of a traditional Baptist minister in the Deep South," Renick says. "... He had a great ability to work across racial lines, across faith-community lines or distinctions, and to quietly, consistently and without hesitation, do work to try to improve situations primarily for African Americans but also from the standpoint of building a better understanding between races."
For some readers, the religious aspect at the center of "Smoke Over Mississippi" might not make the book an obvious choice, but Renick says, at its core, Davis' story is one of Mississippi's struggle for racial equality, and the man himself, a lesser-known legend in that piece of our history.
Oren Renick is an exhibitor at this year's Mississippi Book Festival, which takes place Saturday, Aug. 20, from 9 a.m. to 6 p.m. at the Mississippi State Capitol (400 High St.). Admission is free. For a full schedule of events, visit msbookfestival.com.
More like this story
More stories by this author
Like independent media outlets around the world, the Jackson Free Press works hard to produce important content on a limited budget. We'd love your help! Become a JFP VIP member today and/or donate to our journalism fund. Thanks for considering a JFP VIP membership or one-time support.