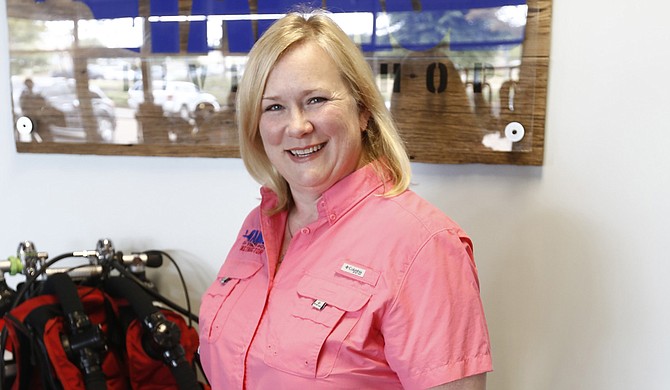 The icy water stung the skin of Melanie Patterson and her husband, Randy Patterson. The sky was filled with clouds, and rain pitter-pattered on their heads. Their nerves tried to get the best of them, but they just kept swimming. That day in April 2005, the couple became certified scuba divers in Vortex Springs, Fla.
Patterson, 55, is a strong believer that the ocean is something to be both explored and respected. A certified diving instructor at Tanks Dive Shop in Flowood, Patterson loves passing on this belief to all her students. Patterson's students learn the academic training first, and then move to the Flowood YMCA's pool, where they practice techniques to help them become comfortable with diving. "The ocean is like being able to explore another world, or another planet," she says. "Now, we can go, because of our equipment and technology, where we shouldn't be able to go."
The North Carolina native moved to Jackson in 1989 with her husband. Long before she took her first dive, she was a nursing student. In 1991, Patterson graduated from nursing school at Hinds Community College. After graduation, she worked for several organizations in the health-care field, including Baptist Health Systems and St. Dominic's Hospital. In 2000, Patterson decided to leave health care and stay at home with their children. Five years later, her kids were older, and her husband convinced her that she should try diving. He had dived a little in college but never pursued it further.
Her husband says the scuba equipment today is completely different from the equipment from the '70s. Today's gear is more comfortable and more user-friendly to ensure a much more fun experience for everyone.
Patterson tells her students they will probably only concentrate on their own air bubbles during their first time in the ocean.
"'Oh my gosh, I'm breathing under water, I'm breathing under water. I'm breathing ... under water,' is probably the most common thought people think their first dive in the ocean," Patterson says.
"They can't focus on anything else but their breathing. But that second dive? Suddenly you see that big grouper, or the eel, or the fish. The longer the dive, the more you see."
Patterson has partnered with Tanks since the shop opened in May. Scuba Schools International, her certifying agency, requires that instructors collaborate with dive shops.
Now, Patterson has 500 dives under her belt, and she says she can't wait for that number to grow. She recently had surgery that will keep her from diving for some time, but she can't wait to get back to teaching and diving.
"You can dive the same site 100 times, but you'll see a 100 different things every time. Every dive is a spiritual experience that connects you to Mother Earth. It's surreal," Patterson says.