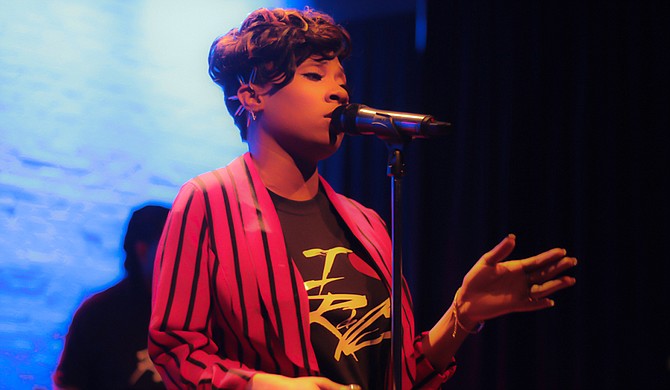 When producer Mark Ronson released his hit song "Uptown Funk" last year, the mention of Jackson threw some listeners. An explanation came in the form of a powerhouse performance from local soul singer Keyone Starr on Ronson's song "I Can't Lose." As if appearing on an album alongside names like Stevie Wonder and Bruno Mars wasn't enough, Starr has also been earning attention internationally with appearances on BBC Radio, British talk show "Alan Carr: Chatty Man," and England's Glastonbury Festival. The Jackson Free Press gave Starr a call while she was in town for some R&R before her current Australian tour with Ronson.
After "Uptown Special" started gaining popularity, the media painted you as this mystery woman. What was that like?
It was slightly overwhelming, but I think I kind of enjoyed being a "mystery woman," just seeing other people's perceptions of me. I liked that they were honest opinions of me without, you know, a bias because they knew they were actually in my face.
Did people want to know more about you, or did they like that you were mysterious?
I kind of got the best of both worlds on that end. I think it was more so that some people wanted to know me because it was cool that Jackson, Mississippi, had a shout-out in a Bruno Mars song. ... Then, some other people sort of made it their own, made up their own stories. I think I was appreciative of those who wanted to know, and it was cool to actually tell my side of the story.
If you had known that your career would change so quickly, is there anything you would have done differently to prepare?
If I would've known anymore than I knew, I probably would have approached it differently or would have approached it with more nerves. I think it worked in my favor that I was naive to some things.
Yeah, I don't think I'd have it any other way. If I had, I probably would have been in my own way. As far as thing's progressing so quickly, I definitely didn't expect it to happen overnight, but it taught me that once you have hands-on experience, you definitely have to learn.
So what can people expect from you now, and what's coming up next?
I'm doing these festivals and in Australia touring in Perth, Sydney and Melbourne, so I'll be there this summer. And in the fall, I'll be doing some recording to hopefully get my EP out by the end of the year.
Right now, I'm recording with Mark Ronson and Jeff Bhasker (who has produced music for Taylor Swift, Pink, Jay-Z and fun.). I should at least have a single out by the end of the year, but the plan is to have the EP done for the top of next year.
You're also a songwriter. Have you been able to write for your new EP?
Yes, I'm actually getting to write songs with a couple producers who are in the industry. Jeff and Mark are pretty solid in the music industries themselves, and I've gotten to work with two producers called Snakehips. ... I'm working with them and with Theophilus London, who's pretty big over in the U.K.
How do you usually approach the songwriting process?
I'm a poet, so I do a lot of writing that's kind of (free-form). Sometimes, I can hear a tune and automatically determine how it makes me feel to start the writing and go from there. Or sometimes, you kind of get a melody in your head and work around the melody. ... For me, I don't thoroughly play an instrument, so a lot of times, the words come first, and I'll just follow with melody. I'm definitely a singer. That's the good thing about me as a songwriter. If it's in my head, I can sing it to you so you know how I want it to sound. It's easy for me to actually communicate what I hear versus if I played it (on an instrument). If I played it, that would be detrimental to everyone! It would sound like a bunch of gibberish.
Five years down the road, what would you like to see for your career?
I would want to have some awesome credentials and trophies on my shelf, including some songwriting and singing credits. I'm around a team of Grammy Award winners and awesome producers and songwriters, so I'm making sure that aura falls on me. And yeah, in the next five years, I definitely want to have my own personal music, have a consistent fan base that I can feed real soul music to, and just stay true to myself, be on my product, my brand and my artistry. Hopefully, I'll connect with some people and become legendary in this thing, you know?
Find Keyone Starr on Twitter and Instagram.
More like this story
More stories by this author
Like independent media outlets around the world, the Jackson Free Press works hard to produce important content on a limited budget. We'd love your help! Become a JFP VIP member today and/or donate to our journalism fund. Thanks for considering a JFP VIP membership or one-time support.