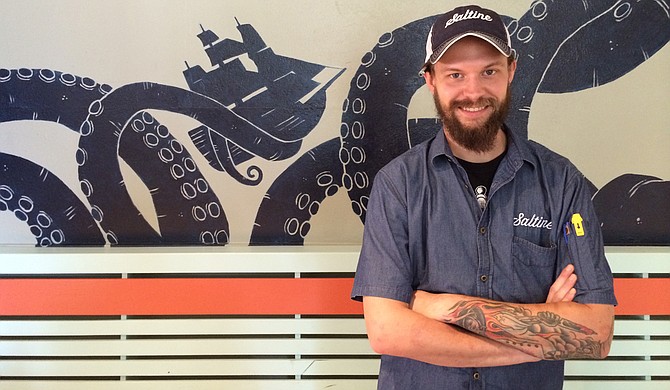 Jackson native Jesse Houston recently announced the addition of Andrew Allen as chef de cuisine at his restaurant, Saltine Oyster Bar (622 Duling Ave., Ste. 201). A Mississippi native, Allen returned to his home state this May from a job at a restaurant called The National in Athens, Ga., to join Houston in the kitchen.
Allen discovered his passion for cooking while working as a dishwasher at Janie's Pastry Shop in Brookhaven in 2005. The doughnut-making process fascinated Allen, who would show up in the middle of the night, off the clock, to help out and learn. He went on to work for chef Ty Thames at Restaurant Tyler in Starkville in 2009. Thames encouraged Allen to attend the New England Culinary Institute, the cooking school from which Thames graduated. Allen began attending the institute in 2010 and graduated with a bachelor's degree in culinary arts in 2013.
Over the course of his education at the New England Culinary institute, Allen received hands-on training and knowledge through internships with chef Shane Ingram at ONE in Chapel Hill, N.C., and chef Brandon Johns at Grange in Ann Arbor, Mich. He worked for two and a half years at The National, a Mediterranean-style restaurant with seasonal southern influences, starting in 2012. At The National, Allen was able to experience some of the best-quality fish available and hone his seafood-preparation skills, which he plans to bring to the table at Saltine.
Houston first met Allen while he was working at Parlor Market in 2011. Following chef Craig Noone's death, the two worked closely on many off-site events, developing a bond through discussing their culinary passions and affinity for beer.
Saltine is open Monday through Thursday from 11 a.m. to 10 p.m., Friday and Saturday from 11 a.m. to 11 p.m., and Sunday from 11 a.m. to 9 p.m. For more information, visit saltinerestaurant.com, call 601-982-2899, or follow the restaurant on Facebook and Twitter.
CARA Hosts Hops for Hounds at Hideaway
CARA, a nonprofit "no-kill" animal rescue group that cares for hundreds of abused, unwanted and stray animals, is hosting a beer-tasting fundraiser called "Hops For Hounds at Hideaway" Saturday, August 1, from 7 to 9 p.m., at The Hideaway in Deville Plaza (5100 Interstate 55 N.).
Capital City Beverages, Southern Beverage Company, Hops & Habanas and LD's BeerRun will provide craft beers for the event, and 4th & Goal Sports Cafe will provide appetizers.
Admission is $25 and includes a performance from the Jason Miller Band at 9:15 p.m. Tickets can be purchased at The Hideaway, 4th & Goal Cafe (5100 Interstate 55 N.) and online at www.carams.org. For more information, contact CARA Executive Director Denise Cantrell at 601-842-4404 or The Hideaway at 769-208-8283.
Northpark Mall and SYF Award Scholarship to Mississippi Student
Dewansia Sutton of Canton recently received a Simon Youth Foundation Community Scholarship valued at $1,500.
Sutton, a recent graduate of Ridgeland High School, distinguished herself through academic excellence, leadership skills and participation in both school and community activities. She plans to study pre-pharmacy at the University of Mississippi in the fall.
The scholarship comes from a partnership between Northpark Mall and the Simon Youth Foundation, a national nonprofit organization dedicated to providing educational and career-development opportunities for youth.
SYF helps students on the verge of dropping out of high school to graduate. The foundation has 22 Simon Youth Academies in 11 states. In partnership with local public schools, SYF has maintained a 90 percent graduation rate at its academies, helped more than 13,000 students graduate, and awarded more than $13 million in scholarships.
The foundation awards scholarships to at least one student in every U.S. community that is home to a Simon property, the parent company that owns Northpark Mall. This year, SYF will award approximately $1.1 million in scholarships.
For more information about the SYF and Simon Youth Scholarships, visit syf.org.