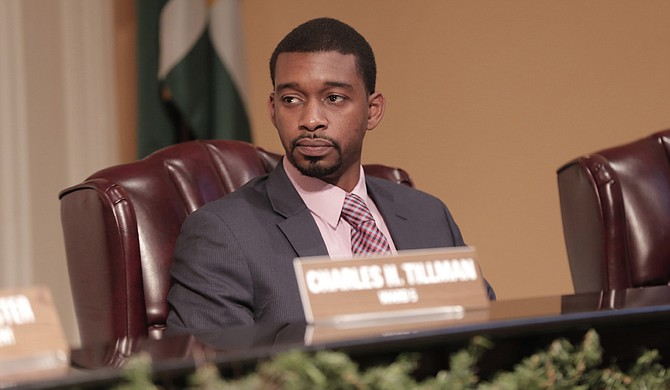 Before 2016 is finished, every major instrument of the Mississippi Democratic establishment will have new leadership.
Rickey Cole, the state party chairman and executive director, has said he won't run again when his four-year term expires in July. Bogue Chitto Rep. Bobby Moak, who leads the Democrats in the Mississippi House of Representatives, was defeated in his November re-election bid, meaning the caucus will have to appoint a new minority leader next session.
The Legislative Black Caucus, which comprises a majority of Democrats in the statehouse, recently named Jackson Rep. Earle Banks as its chairman to replace state Sen. Kenneth Jones, of Canton, who also fell in defeat. Finally, the four-year-old Mississippi Democratic Trust will also come under new leadership on Jan 1.
The flurry of changes present the question of whether the state Democratic Party is in shambles or if the stars are finally aligning for it.
"I personally think this is a positive thing and a sign of maturity," said Brandon Jones, a former legislator who started the organization in 2011 to provide air support for Democratic candidates in terms of fundraising, communications and policy development.
Jones said that stepping aside is the grown-up thing to do because he never planned to be in charge of the Democratic Trust forever. The organization, he said, needs fresh, high-energy leadership with new ideas who possess the technical expertise to execute modern data-driven political campaigns.
So on Jan. 1, he will step down and hand the reins over to David McDowell, a longtime campaign worker who is relocating to Jackson from Oxford to take Jones' place as executive director. Will Godfrey, another Democratic campaign operative, will serve as finance director for the group.
The Mississippi Democratic Trust focused the 2015 election cycle on recruiting Democrats to run in key races in hopes of winning back the state House from Republicans. The campaign succeeded in picking off one GOP incumbent, Brad Mayo of Oxford, but losses by Moak and Rep. Sherra Lane of Waynesboro bought Republicans within one vote a supermajority, which would allow the Republicans to run roughshod over money bills with no input from the minority party.
Legislative stumbles aside, this was also the year that Robert Gray, a political unknown, wrested the gubernatorial nomination away from better-positioned candidates in Vicki Slater and Valerie Short, which prompted murmurs in and outside the party that for all intents and purposes Democrats in Mississippi are fatally wounded.
"Two-thousand fifteen was a disappointing year—I don't think anyone would argue with that—for the Democratic Party in Mississippi," said McDowell, a Slidell, La., native. However, he and Jones point to the trust's success in municipal elections in 2013, when Democrats beat off aggressive Republican challenges to retain several mayoral seats and picked up a few more. McDowell said he is not sure where the organization will focus its efforts in the near term. As a state political action committee, the group does not get involved in federal elections; it's also possible that it helps on some judicial races, which are officially nonpartisan but often draw interest from the respective parties.
"We're going to have to be standing there with our legislators and sticking up for the things we care about. There's no more important time to stand up for the things we care about as Democrats when the Republicans are on their way to strong arming (the legislative process), at least in the House," McDowell said.
In the past few years, Democrats pushed for a debate and vote on Medicaid expansion, beat back attempts to impose strict documentation requirements for immigrants and debated a number anti-abortion bills to varying degrees of success. The Democrats' agenda for the new term remains an open question, contingent on whom the members choose for new leadership, especially in the House.
Moak, the outgoing minority leader, said the leadership switch-a-roo in his party isn't as dramatic as it looks.
 "I don't think you read anything into that. That's just what happens," Moak said of the changing of the political guard. "Any time there's change, there's a chance for the party to take a step back."
Despite the decline in Democrats' voting strength over the past decade, Moak points to neighboring Louisiana, where Democrat John Bel Edwards bested his opponent in the gubernatorial race, Republican U.S. Sen. David Vitter, by 12 points, as the trajectory Mississippi politics could be on.
Democrats' long-term sustainability could hinge on the person selected as its next statewide chairperson. Cole served as chairman from 2000 to 2004 and again for a four-tear term from 2012 to 2016. Cole is also executive director, running the day-to-day operations of the party.
Several names have surfaced as possible successors, including Moak, attorney and former Democratic gubernatorial candidate Vicki Slater and Jackson Ward 6 Councilman Tyrone Hendrix. Mike Biggs, blogging for his Mississippi Political Pulse, first floated the idea in mid-December, writing of Hendrix, a party operative and campaign consultant:
"Make no mistake, Tyrone and I have had disagreements on tactics and style in the past; at times very public. We've taken similar yet different paths partnering up at times along the way. ... I've always respected the fact that he's steadfast in what he sets out to do."
Hendrix said he has considered it only because he started getting inquiring phone calls after Biggs' blog went live. But, for now, he is focused on representing his south Jackson ward on the city council, he said.
"I would like to see the leadership of the party start to be representative of the Democratic Party and Democratic voters in the state," Hendrix said, referring to the Mississippi party's overwhelming black majority.
Moak said he has not actively campaigned for the party chair position, but, without offering specifics, added that he is interested in keeping a toe in politics.
Comment at www.jfp.ms. Email R.L. Nave at rlnave@jacksonfreepress.com.
More like this story
More stories by this author