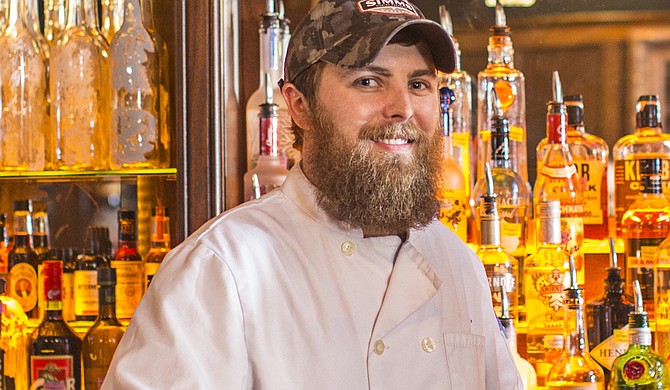 Three months ago, Ryan Cassell—a Madison native who had been living in Charlotte, N.C., for the last 10 years—returned to his home state to take on the position of head chef and general manager at Fenian's Pub (901 E. Fortification St.). Cassell, who had been spending his time in Charlotte working at Ri Ra Irish Pub, was glad to put his years of experience working there to work in Jackson.
"I got the call to come take the position at Fenian's thanks to my friend Michael Greenhill, the chef at Walkers Drive-In, who is a friend of Sean Cupit, the owner of Fenian's," Cassell said. "Michael recommended me when he heard Sean was looking for someone for the new position, and I was glad to be able to help out one of the older places in Jackson by revamping it and giving it new food."
While Fenian's menu selections such as shepherd's pie remain as permanent fixtures, Cassell largely decided to give the pub's menu a complete overhaul, with plenty of new items that all share an emphasis on being fresh and local. Everything is made fresh in house from local ingredients such as bread from Gil's Bakery in Ridgeland, beef and lamb from Simmons Farm in Yazoo City and eggs from Bobcat Farms. Fenian's new menu includes plenty of traditional Irish pub favorites such as beef and Guinness stew, fish and chips, and shepherd's pie made with lamb.
"I've been to Ireland and would say our stuff would stand up to stuff there," Cassell said. "When I implemented this new menu in November, I did it with the intent of bringing a bit of Ireland here to Jackson."
Cassell has also worked to expand the amount of local craft brews available at the pub. Fenian's only had one local beer when Cassell first started, but he has since started bringing in new brews from Mississippi breweries like Lucky Town Brewing Co., Yalobusha Brewing Co., Southern Prohibition Brewing and Lazy Magnolia Brewing Company. And now, Fenian's patrons have more opportunities to enjoy these new brews, since Cassell reopened the pub for lunch after it had been closed for lunch since January this year. Cassell also plans on expanding Fenian's outdoor patio in February 2016 and remodeling the kitchen.
"This is one of the last standing old Jackson pubs, and I want to take care of it while also breathing new life into it," Cassell said. "I want to work together with the community on it too, because that's what a pub should be."
Fenian's Pub is open from Monday through Friday from 11 a.m. to 2 a.m., Saturday from 4 p.m. to 2 a.m., and is closed on Sundays. The new menu is available from 11 a.m. to 10 p.m. before the pub switches to its late night menu at 10 p.m. For more information, call 601-948-0055 or visit fenianspub.com.
Looking for Wine?
Mississippi grocery retailers large and small are hoping to change how the state handles wine sales through the Looking for Wine? coalition, which wants to promote a bill to allow grocery retailers in the state to sell wine with higher per-volume alcohol content. Currently, grocery retailers only sell what is known as light wine, which has only 5 percent alcohol per volume.
Thirty-seven other states allow wine sales in grocery retailers, including many of Mississippi's immediate neighbors. According to a release from Looking for Wine?'s organizers, if the 140 grocery stores across the state participating in the coalition get the clearance from the state Legislature to sell wine, it could bring about an estimated $26 million increase to state revenue.
Camille Young, a vice president with Cornerstone Government Affairs, a Washington, D.C.-based government and public relations firm with offices in downtown Jackson, has been spearheading the Looking for Wine? coalition's efforts in Mississippi for the last six months. The coalition's goal is to build public support for the introduction and passage of a bill in the upcoming 2016 state legislative session. Looking for Wine? has been working to inform the public through social media and conducting giveaways so far, and hopes to meet with the Legislature this month after the legislative committee for the upcoming session is formed. The proposed bill would only apply to grocery stores and prescription-drug stores in wet counties in the state, while dry counties would not be affected.
For more information on the Looking for Wine? coalition, visit their website or find them on Facebook or on Twitter @looking4wine.
More like this story
Like independent media outlets around the world, the Jackson Free Press works hard to produce important content on a limited budget. We'd love your help! Become a JFP VIP member today and/or donate to our journalism fund. Thanks for considering a JFP VIP membership or one-time support.