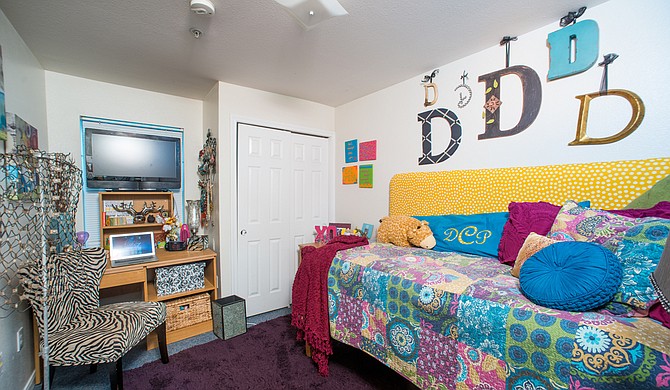 Living in a dorm room doesn't have to be dull and boring. With the next school year just around the corner, you'll need more than just the usual school supplies to liven up your room. You can bring out your creative side and personality all with some basic craft supplies. Here are a few ideas to make your dorm more than just a temporary living space.
Throw pillows
I don't know about you, but I am a pillow fanatic, as weird as that may sound. My bed and chairs can never have too many pillows. Throw pillows are a great way to give your room a comfy and colorful look, but why not add your own flair? Try finding a few simple pillows from one of the local thrift stores and add a unique flavor to them with various prints and patterns. It can be as simple as drawing custom designs with a magic marker.
Lighting
Interesting lighting ideas can give a cool look to any living space. A fun addition to stringing Christmas lights is adding ping-pong balls to the mix. Poke holes into the balls and stick the bulb inside. Use temporary hooks to hang them anywhere you want to remove the need for fluorescent lights.
Mason jars
Mason jars are cheap and versatile. They can be used to hold anything from pens and pencils to make-up brushes and other little knick-knacks. Try adding your own personal touch to the jars with glitter, paint or whatever materials you have on hand.
Tapestries and wall hangings
Pictures and posters are fun, but creating your own wall hanging is even cooler. All you need is a large sheet and those handy fabric markers. Come up with whatever design you want and get creative.
Picture garland
This is a neat way to hang all your favorite pictures without purchasing a stack of picture frames. All you'll need is string, clothes-pins and, of course, pictures. Hang the string above your bed or desk and use the clothes-pins to clip your best photographs to them. Think of it as a clothes-line minus the clothes.
There are many more ways to decorate your dorm room for little to nothing and turn your average dorm from drab to fab. Get creative and have fun. For a list of Jackson's best thrift-store options, visit bestofjackson.com.
What did you do to combat the freshman 15?
"I got a head start and gained my 15 pounds my senior of high school. I was ahead of the curve." —Maya Miller
"Just going to let it happen." —John Creel
"I would combat the freshman 15 through exercising at least three days in one week by walking or going to a gym. I could also eat healthy foods. I could jump rope and do sit-ups." —Chloe' Owens
"Having to walk around campus was built-in daily exercise, but I made sure to work out at least twice a week. Also, I avoided buying unhealthy snacks. ... In the cafeteria, I didn't give in to the fountain drinks and desserts." —Emerald Alexis Ware
"Unfortunately, I did not. But I would say watch how many snacks that you purchase and trying intramural sports." —Guy King
"I actually didn't combat the freshman 15. It got me. But I lost about 15 pounds rather than gained them." —Deja Harris
"I went into college knowing that I didn't want the freshman 15, so I joined a weekly step class. It was so fun that I almost forgot I was working out." —Nia Wilson
"Manage money and walk to class instead of driving or riding the bus." —Joshua Clayton
"Every time you want to eat, watch 'Food Inc.' See what happens." —Zachary Oren Smith
More like this story