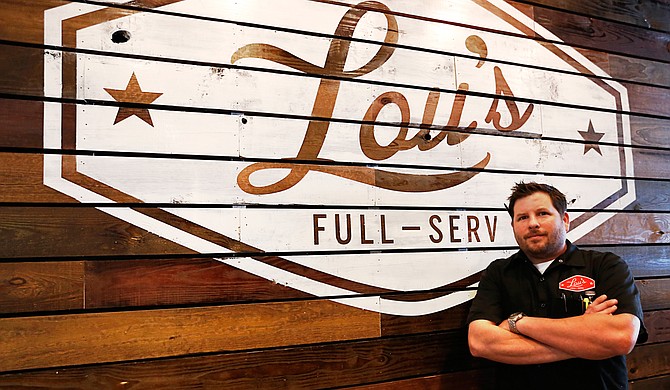 Since its inception in March 2014, Lou's Full-Serv Neighborhood Kitchen has made itself into an eclectic hideaway tucked in a quiet corner of a district where faces are familiar and everyone has a recipe for shrimp and grits. Jackson native Louis LaRose owns the restaurant, which is located in historic Belhaven. No stranger to Jackson or Belhaven, LaRose uses his 23 years of culinary experience to tweak southern dishes to promote new interest and stimulate palates.
LaRose, 38, got his start in the food-service industry as a dishwasher at the now-closed POETS restaurant in The Quarter in the early '90s. There, he moved up to busboy, barback and prep cook, before working as a waiter and, eventually, a cook. He also worked at POETS' sister restaurant, the former Sam's Westside, where Broad Street Baking Company (4465 Interstate 55 N., Suite 101, 601-362-2900) is located today, and he worked at BRAVO! Italian Restaurant & Bar (4500 Interstate 55 N., 601-982-8111). And all that before he graduated from high school. LaRose went to college at Johnson and Wales University in north Miami, where he earned his associate's degree in culinary arts in 1998, graduating summa cum laude.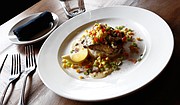 With his relationship with Jackson restaurateurs Dan Blumenthal and Jeff Good still solid, he returned to BRAVO! as a sous chef. Within months, the restaurant promoted him to chef de cuisine in the late '90s, a position he held from until 2010, when he tried to get a job at Sysco to focus more on his family. When the job at Sysco didn't pan out, he took a job as the chef de cuisine at Derek Emerson's Local 463 Urban Kitchen (121 Colony Crossing Way, Suite A, Madison, 601-707-7684). In 2012, he joined the Mississippi Museum of Art (380 S. Lamar St., 601-960-1515) as its executive chef, but LaRose soon realized he wanted something else: his own restaurant.
"I was thinking, if I was going to get back at it and really grind it out, working 80 to 90 hours a week sometimes, I needed to do it on my own terms," he says.
When he left MMA in fall 2013, he set out to find the perfect location for his new restaurant. He found it when the historic spot on Fortification Street that previously housed Basil's 904, Parkins Pharmacy and many other endeavors became available in February 2014. He signed the lease in early March.
"I love the old homes," LaRose says of his new neighborhood. "The history of the area is great. There are two great universities (and) three great hospital complexes, and it's less than two miles from the business district downtown. The lunch crowd is good in Jackson. I know there's a lot of restaurants in Jackson, but I think good restaurants breed good competition."
LaRose kept the original checkerboard floor tiles for Lou's Full-Serv, as well as a vintage postal-service window that writer Eudora Welty once used. The dining area has a welcoming industrial quality that LaRose envisioned when he overturned the space. The architecture is unique, with exposed conduits, a direct view into the kitchen and the restaurant contains many items, such as the server's station, that LaRose made himself. But the decor is merely a backdrop to the main attraction: the food.
LaRose's culinary training influences his menu, which includes a few dishes featuring veggies and sauces found in traditional Caribbean or Creole recipes. For the most part, he tries to keep the dishes fresh and simple, giving customers a taste of something new without radically deviating from classic southern staples such as redfish, scallops, and shrimp and grits.
For the spring, LaRose plans to lighten up the winter menu and add a few new dishes.
"I think everything on our menu sells really well, and the people who come like what they like, but at some point, you have to change it up—not to stay competitive, but to stay current," he says. "They'll be healthy changes, not like health conscious, but something to breed new interest and raise some eyebrows."
The decision to open a restaurant was a gut-wrenching one for LaRose, but he felt that he was meant for something more than working in someone else's kitchen. It's not about the money for him, but rather a desire to be fulfilled and spend his days doing something he genuinely loves. Working at the Mississippi Museum of Art rekindled his passion for culinary excellence, he says, and since signing the lease for the Lou's location, he says everything's been fine. "It's a little frustrating at times, but every bit of it is educational and strengthening," he says.
"It's definitely been worth it."
Lou's Full-Serv Neighborhood Kitchen (904B E. Fortification St., 601-487-6395) is open Monday through Thursday from 11 a.m. to 9 p.m., and 11 a.m. to 10 p.m., Friday and Saturday. LaRose is considering extending the restaurant's hours. Visit lousfullserv.com.
More like this story
More stories by this author