Deandrea Moore was on maternity leave when the idea of a food truck came to her.
"I'm the kind of person who always wanted to do something on my own," she says. She enjoyed her career as an auditor for Pepsi Co., but like many parents, she wanted more time with her seven children. Moore returned to work after the birth of her youngest child, but the idea never went away. She returned to work in January 2014 and worked for two more months before turning in her notice.
Her husband, Omario, who was a chef at the Capital Club downtown, jumped on board and turned in his notice, too. By the end of March, they were developing their food-truck concept full-time, and 2 for 7 Kitchen was born.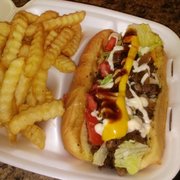 Initially, 2 for 7 was a delivery service. The Moores took orders from groups of teachers or industrial workers and deliver it at lunch. The response was incredible and prompted the couple to take the risk and get the truck, which only created more business. Moore said that most of their new customers hear about them through word of mouth, Instagram (@2for7kitchen) or Facebook. "I've not seen one bad comment, yet," Moore says.
Menu items include breakfast favorites such as pancakes and waffles, available all day, hibachi, chicken on a stick, philly cheese steaks, poboys and a dozen other unrelated things, with new items added daily. The real kicker is that if you want something that isn't on the menu, and they have the ingredients, 2 for 7 will make it anyway.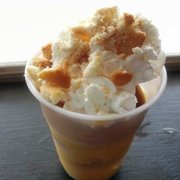 On weekdays, the Moores are usually set up at 4106 Medgar Evers Blvd., but they're on the lookout for a regular lunch location that patrons can walk to from work. You can find them at the usual spot on weekends if the truck isn't at an event. 2 for 7 opens for business each day at 11 a.m. On weeknights and weekend nights, it closes when the food runs out, usually between 1 and 4 a.m., with a break around 3 p.m. for a grocery run, if needed.
"That's when we are packed," Moore says. "We get the most business at night, because not a lot of things are still open." They still deliver, too, for 10 or more orders placed before 9 a.m. for lunch.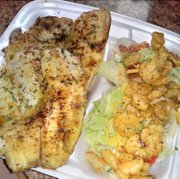 The Moores aren't content to settle for their current success. They're hoping to add another food truck soon and to eventually open a restaurant. Their short-term goals include adding sushi to their offerings.
"When we got started, we didn't know the do's and don'ts, and about all the paperwork and process," Moore says. "But now that we do, we know we can do it."