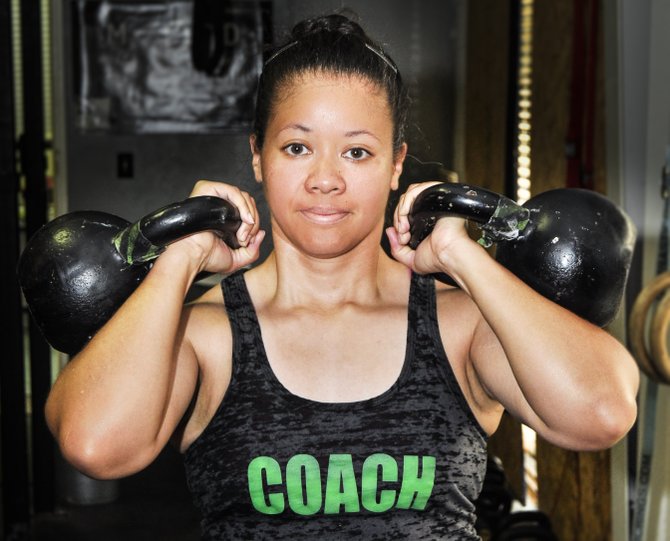 Michelle Alexander is as versatile as the program she coaches. A fitness enthusiast, Alexander, 39, is a retired Marine Corps sergeant and a CrossFit coach. She lives in Ridgeland and trains at CrossFit 2717 (517 Liberty Road, Suite 2A, Flowood, 601-653-2717).
She first discovered CrossFit through her involvement in martial arts when a friend posted a video on a message board of women doing a CrossFit exercise. Inspired by their performance, Alexander decided to try it. She met owner and head coach of CrossFit 2717, Michael McElroy, at the Renaissance at Colony Park Half Marathon in 2009 and has trained at his location ever since.
Alexander began coaching in 2012. With her military background, she has always been interested in physical fitness. "I always knew deep down that there was some element of physical fitness that everyone needed," Alexander says.
Her family is from Edwards, though she was born in Okinawa, Japan. She graduated from Wingfield High School in Jackson in 1992, and in 1993, she enlisted in the Marines. Alexander served for eight years and retired with the rank of sergeant.
Alexander says that being a female Marine was often challenging. "Some guys aren't as accepting in the beginning, but then they see that your can hold your own," she says.
She believes that the leadership skills acquired in the Marines help her in her role as a CrossFit coach. "I've found it less daunting ... As a sergeant, I had to lead exercises," Alexander says.
She coaches at 2717 three to four days a week, tailoring workouts to each person based on their abilities. Each routine includes cardio, lifting and body-weight movement. Alexander pays special attention to the person's capabilities and preparedness, emphasizing the importance of hands-on instruction to make sure that he or she is challenged but not overwhelmed.
"We're not just jumping in and making people do an exercise they've never done before," she says. "Our workouts focus on individuality, because not everybody is the same."
For Alexander, CrossFit is exciting and dynamic. "The old way of going into the gym and sitting at a machine ... I can't imagine doing that ever again," she says. "Working out in CrossFit helps with the functional movements that you do on a daily basis. It's not something where you're preconditioned to do one movement one way and only in that way."
Coaching requires her to be engaged and personable at all times, and she finds the process gratifying.
"The thing I like the most is helping people achieve something ... helping them get over the hurdle of 'this feels awkward' (and) 'I'm not sure of myself' to the point where they're even starting to help new people who come in. That's rewarding," Alexander says.
More like this story