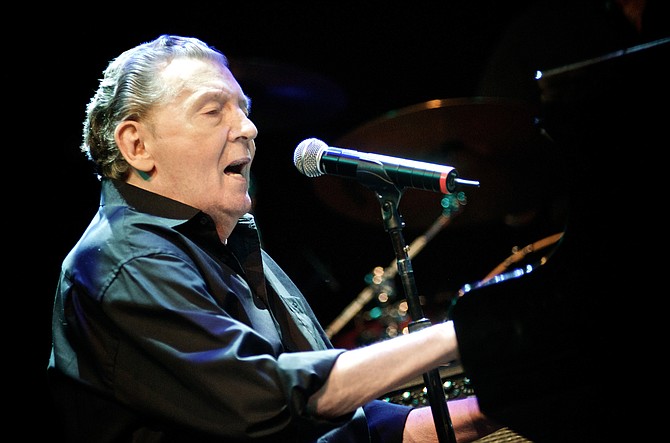 On Dec. 4, 1956, Elvis Presley was home for the holidays in Memphis. He decided to stop by Sun Studios and pay a visit to the crew at the recording studio that launched his career. Carl Perkins was wrapping up a session with an up-and-coming pianist from Louisiana named Jerry Lee Lewis, who had just released his first single, "Crazy Arms." Naturally, a jam session ensued, and studio owner Sam Phillips had the good sense to call down Johnny Cash, hit the record button and make sure someone from the paper was there to snap photos. (Phillips never missed a golden opportunity).
The four stars became known as "The Million-Dollar Quartet." Presley was already a star. Cash and Perkins were climbing the charts. But a listen to the rough recordings from that day will leave listeners with one conclusion: Jerry Lee Lewis was going places. His pure talent was undeniable as he sang harmonies on old gospel songs and Presley's tunes. It's a glimpse at the moment of lift-off for an entertainment career.
By the end of 1957, the world knew Lewis. "Whole Lotta Shakin' Going On" and "Great Balls of Fire" were early slices of unbridled rock 'n' roll energy. The songs featured fiery piano and unhinged vocals. Those two records alone influenced countless artists through the next several decades.
From the 1960s to the late 1980s, Lewis' career was a roller coaster with amazing highs and bottomless lows, including a scandalous marriage to his 13-year-old cousin, Myra. Instead of falling off the face of the planet, he reinvented himself as a country singer, releasing some of the most powerful music he's ever recorded. Like a prizefighter, Lewis always seems to come back. That's one of the messages that readers will gather from the songwriter's biography, "Jerry Lee Lewis: His Own Story" (Harper, 2014, $27.99).
Author Rick Bragg is a Pulitzer Prize-winning journalist. In addition to teaching writing courses at the University of Alabama, the former New York Times reporter penned bestsellers "All Over But the Shoutin'" and "The Prince of Frogtown." The Alabama native's sleek narrative style and experience writing biographies and memoirs made him a perfect choice for sharing a rare look into the mind of an American music icon.
Throughout "His Own Story," Bragg seamlessly melds deep research with stories gathered from two years of meetings at Lewis' home in Nesbit, Miss. Bragg paints a picture of the man he met a man—someone who seemed at peace after years of running from his own demons. Drug and alcohol abuse, multiple failed marriages and the deaths of Lewis' sons, Steve Allen and Jerry Lee Jr., are all covered here in great detail.
Bragg masterfully interprets Lewis' life story in a natural, disarming way. He sets each scene with a dialect and language that anyone who has ever been in the South can understand, which makes it easier to trust Lewis, a man who's lived a thousand lives with tales almost too wild to be believed.
Lewis is frank when discussing his hard, complicated life, but he knows it's also been a full one. Reading the book, his story can feel like a million music biopics rolled into one.
Lewis is the last living member of the famed "Million Dollar Quartet." At 79 years old, "The Killer" (a nickname he earned from his high-energy concerts) still performs regularly and records music. His newest album, "Rock & Roll Time," hit stores Oct. 27. While his story isn't finished quite, yet, Bragg braves Lewis' troubled waters to bring readers a book that is just as remarkable as the man it memorializes.
Rick Bragg signs copies of "Jerry Lee Lewis: His Own Story" 5 p.m. Nov. 19 at Lemuria Books (202 Banner Hall, 4465 Interstate 55 N.). The event is free. For more information, visit lemuriabooks.com.
More like this story
More stories by this author
Like independent media outlets around the world, the Jackson Free Press works hard to produce important content on a limited budget. We'd love your help! Become a JFP VIP member today and/or donate to our journalism fund. Thanks for considering a JFP VIP membership or one-time support.