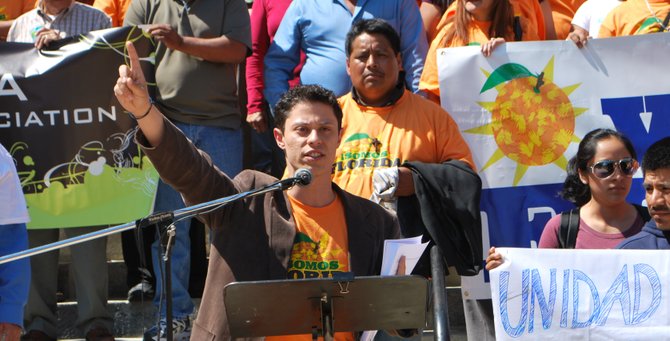 Felipe Sousa-Rodriguez's visit to Jackson couldn't have been timed more perfectly.
Born in Brazil, Sousa-Rodriguez emigrated to the U.S. at age 14. He became an activist for LGBT rights and immigrant issues, urging Congress to pass the DREAM Act to allow children who were brought to the U.S. without documentation an opportunity for conditional permanent residency status.
Sousa-Rodriguez is participating in a panel at Millsaps College tonight titled "Immigrant and LGBTQ Rights in America." The talk comes as Mississippi is in the midst of a battle over a controversial legislative proposal that the LGBT community say could legalize discrimination in the state.
That bill, Senate Bill 2681, has changed dramatically since it first passed the Mississippi Senate. Currently, the measure forms a study committee consisting of the House and Senate Judiciary committees. The committee is required to have its first meeting no later than June 1 and to have at least three meetings total, which would be open to the public. The bill also requires the committee to submit a report of its findings by the end of 2014.
However, some speculation exists that supporters of SB 2681 will try to complete the process before the conclusion of the legislative session in early April. House Speaker Philip Gunn, R-Clinton, endorsed the call for more study, saying that the House's own attorneys had "differing views as to the legal impact of this bill."
"We have been diligently working to analyze all the concerns with this bill, but simply have not had enough time to thoroughly scrutinize all the concerns that seem to surround this bill, given that we only received it a short time ago," Gunn said in a press release.
Pressure has been building on Mississippi lawmakers since the original bill passed the Mississippi Senate on Jan. 31. It was similar to a measure that Arizona Gov. Jan Brewer vetoed recently. Critics said the Arizona measure could lead to discrimination against gay people and other groups by, for example, allowing a baker to refuse to make a cake for a same-sex couple.
Also this afternoon, the Mississippi Immigrant Rights Alliance is holding a hearing on allowing undocumented immigrants to pay in-state tuition at state colleges and universities.
The Millsaps forum takes place this evening, Monday, March 17, at 7 p.m. in the Academic Complex, Room 215 at Millsaps College (1701 N. State St.).
More like this story
More stories by this author