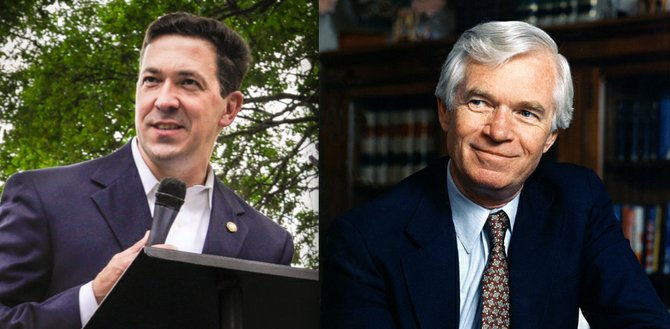 By most accounts, going into tomorrow's Republican primary for U.S. Senate, state Sen. Chris McDaniel of Laurel has a commanding advantage over the incumbent, U.S. Sen. Thad Cochran.
That is, among likely GOP voters.
Over the weekend, Chism Strategies—a Democratic firm that has commissioned several polls since the June 3 primary election that resulted in a runoff—unveiled its latest survey of Republicans that shows McDaniel leading Cochran by eight points. For the first time since Chism began polling, the lead is well outside the 4 percent margin of error.
"Unless Cochran expands the electorate with general-election Republicans and crossover Democrats, McDaniel wins," Chism pollsters wrote.
Yet, Chism's group and other experts agree that it's difficult to measure a number of variables in this race, including an unprecedented appeal to African Americans and Democrats.
Austin Barbour, an adviser to Cochran's campaign, told The New York Times: "We've got efforts reaching out to black voters in Mississippi who want to vote for Thad because they like what Thad is for. ... Thad Cochran is someone who, even with his conservative message, represents all of Mississippi. He's not some hostile screamer."
In Mississippi, many Republican policies on both the federal and statewide level have left a sour taste in the mouths of African Americans, causing many to believe that blacks will not support even a cool-tempered Republican in the mold of Cochran.
Rickey Hill, who chairs the political science department at Jackson State University, says the African American vote, even in Mississippi, is not a monolith. For blacks who live in the capital city and other urban areas that rely heavily on federal pass-through money for infrastructure, community-development block grants and other funds Congress authorizes, it could be in their economic interests to get behind Cochran.
"Most people who are paying attention know that ... Cochran has good constituent services," Hill said.
In a stepped-up ad campaign in Jackson publications, such as the Jackson Advocate and—in the interest of full disclosure—the Jackson Free Press, as well in mailings to majority-black Jackson neighborhoods, Cochran touts his support for historically black colleges and universities, the Jackson Medical Mall and Supplemental Nutritional Assistance Program, formerly called food stamps.
However, a campaign doorknob hanger Cochran campaingers left on homes in whiter Jackson neighborhoods such as Belhaven carried a very different message. It pictured all white men and emphasized Cochran's support for the NRA and anti-abortion efforts, as well as the fact that he voted "more than 100 times" against Obamacare.
"In tough times, you've got to do some unusual things," Bishop Ronnie Crudup told the Times. Crudup, who is African American, us pastor of New Horizon International Church and has worked with Republicans on a number of issues over the years, including charter schools.
In an election as close as the June 3 primary, where about 1,500 and 3,000 votes kept McDaniel and Cochran, respectively, from winning outright, a few large African American church congregations such as New Horizon's could easily put one candidate over the top.
McDaniel, meanwhile, is sticking to his conservative message of reining in federal spending and bringing little money back to Mississippi, if he is elected to the Senate.
Dr. Hill, of Jackson State, is not sure that will be politically feasible in a state as poor as Mississippi. Of McDaniel's campaign rhetoric, Hill said: "If he believes he's going to go (to the U.S. Senate) and do nothing, then clearly he only sees himself there for one term."
More stories by this author
Like independent media outlets around the world, the Jackson Free Press works hard to produce important content on a limited budget. We'd love your help! Become a JFP VIP member today and/or donate to our journalism fund. Thanks for considering a JFP VIP membership or one-time support.