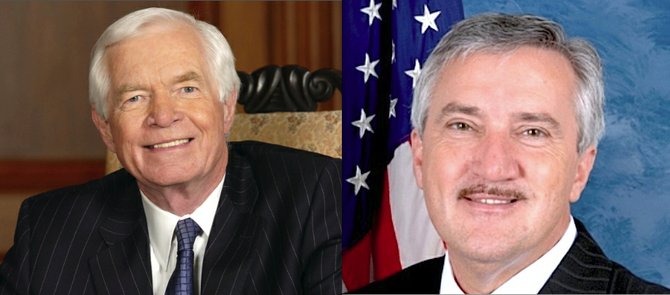 Facing a throng of hecklers, Republican U.S. Sen. Thad Cochran made a rare public appearance at the Neshoba County Fair to throw some red meat to Republicans. Smelling blood in the water, former U.S. Rep. Travis Childers, the Democrat who will face Cochran in the November general election, also went on the attack.
A conservative Democrat positioning himself as a populist, Childers lost his seat to current Rep. Alan Nunnelee, a Republican, in 2010.
"We've been last too long. Aren't you tired of being last?" Childers said to the crowd this morning.
Childers hit on several major themes for national Democrats, including taking aim at Republicans leaders for refusing to participate in Medicaid expansion that would give an additional 300,000 Mississippians affordable health insurance and calling for an increase to the minimum wage, now $7.25 an hour. Childers also invoked his mother in calling for equal pay for women.
"We need to show the rest of the country that this Senate seat is not for sale," Childers said, alluding to the millions of dollars that poured into the Mississippi Republican primary, mostly by shadowy outside groups.
Cochran shot back in his remarks, saying the Senate represented a fight on behalf of Mississippians. He also addressed the health-care issue by saying government control is not the answer to providing Mississippi citizens with affordable medical care and pointing out that he voted to repeal the federal Affordable Care Act.
Anti-Cochran demonstrators carried signs that read, "betrayed" and "RINO," or Republican in Name Only. Cochran, Mississippi's senior senator, came under heavy criticism during his primary battle against state Sen. Chris McDaniel, a tea-party favorite. McDaniel's supporters accused Cochran of being insufficiently conservative.
Gov. Phil Bryant followed, attempting to regain some of his tea-party bona fides that came into question for his support of Cochran. Bryant touted Republican support of the 2nd Amendment, which in recent years has included exempting conceal-carry permit owners from the state's open records law and pushing a controversial open-carry gun law despite objections from law enforcement officials around the state. Bryant, who faces reelection in 2015, bragged that the state GOP slashed taxes 40 times since taking over three years ago and is working to stop illegal immigration.
Bryant briefly touched on the passage of the Religious Freedom Restoration Act, a controversial measure that garnered national attention and spawned several new equality-protection initiatives focused on Mississippi.
R.L. Nave contributed to this story.