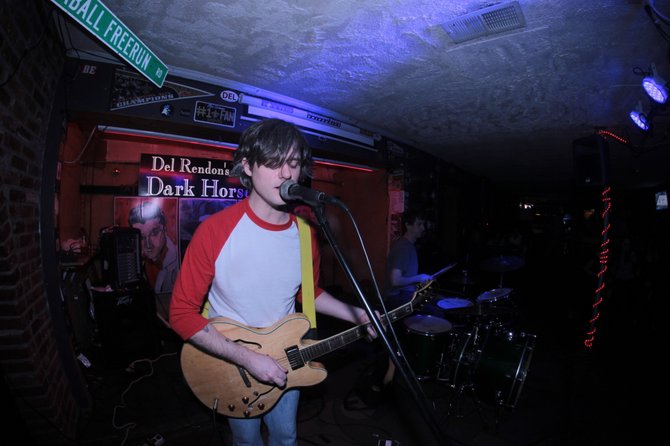 The brotherly duo Rooster Blues aims to make the blues its own by introducing a mix of weighty lyrics, extensive musicality and a little rock 'n' roll. Judson, 34, and Joel Vance, 32, residents of Hattiesburg, have performed original music under the Rooster Blues moniker for nine years, delivering a mutual love of bluegrass and blues to a steadily growing fan-base.
Both brothers sing and play myriad instruments, with Judson focusing on guitar, piano and organ, and Joel turning his attention to the mandolin and percussion. Rooster Blues places its sound in a similar vein as grunge great Nirvana, albeit with heavier blues undertones, featuring thick guitar riffs and smoky vocals.
The brothers regularly improvise during performances, allowing the crowd to inform their presentation of the music. For Rooster Blues, the most memorable moment in its career was during the world music event FloydFest in Floyd, Va. Judson says Rooster Blues became a hit with the festival goers because he and Joel listened to what the audience wanted. "If they weren't feeling it, we tried something new the next time," he says.
Judson says that the natural bond he and his brother share makes the amount of hard work they do as Rooster Blues much easier. It also forces them both to grow a thicker skin and helps to keep their egos in check. "It's not difficult. We shrug things off very easily," he says. "You can't talk about other band members behind their backs because he is the other band member."
Despite a number of differing influences between them, the members of Rooster Blues like to keep their sound as true to the traditional blues genre as possible, an ideology they're keeping in mind as they write new music for their fifth studio album. They are attempting to create a concept album with every song tying into the next. Judson says they hope to achieve a cohesive stream of consciousness. "We're not trying to put a bunch of songs together," he says. "We want this album to tell a story, and once the last song ends, it rolls into the first one."
They plan to record the as-of-now untitled release with producer Brett Orrison in Austin, Texas, once they've finished perfecting the new material. Judson says they find the freedom of expression to be the most enjoyable facet of writing original blues music.
They also enjoy including heavier lyrical content than many listeners might expect from the genre.
"We're not writing about light-hearted stuff," he says. "We're not writing about being in love or daisies in fields." Judson says that he and Joel have a tendency to stick with a theme or general idea until they become disenchanted with it and set their sights on another topic, usually one that is equally challenging to write about.
Rooster Blues will perform at Martin's Restaurant and Bar (214 S. State St.; 601-354-9712) Friday, July 25.
More like this story
More stories by this author