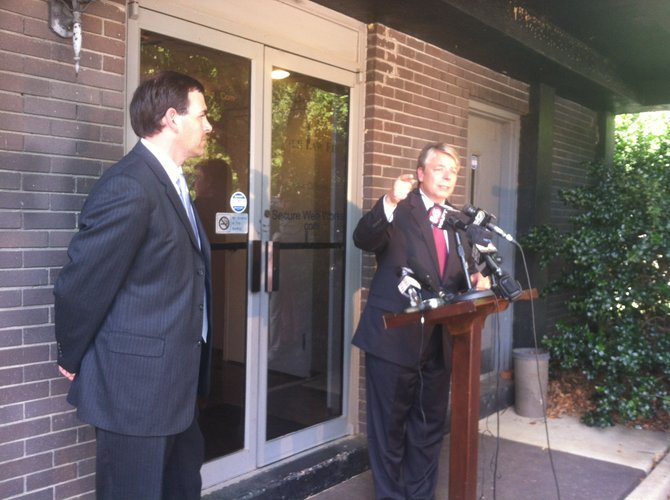 JACKSON — The campaign for state Sen. Chris McDaniel charged Wednesday that more illegal votes exist than Republican representatives like Pete Perry of Hinds County suggest.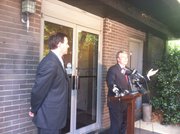 At a 2 p.m. press conference at the Tyner Law Firm in Jackson on Wednesday, McDaniel campaign attorney Mitch Tyner said the results of their inspection of election records is enough to make a case against the integrity of the election.
Pete Perry, chairman of the Hinds County Republican executive committee, said Tuesday morning that representatives from both campaigns only found roughly 350 illegal or ineligible votes in Hinds County, nowhere near the 1,500 that the McDaniel campaign projected.
"The numbers we're going to disagree on, there's no doubt about that," Tyner said.
Tyner and another McDaniel campaign attorney, Michael Watson, said their biggest concern in challenging the election is making sure that Mississippi's political races are conducted with transparency and fairness. Watson mentioned problems with election code that have contributed to the campaign's difficulty.
"It's got some holes. In some places it's a nightmare," Watson said.
He also cited allegations of voter fraud and race-baiting. Cochran's campaign has come under fire after affiliated super PACs released racially charged advertisements against McDaniel.
"That's gross. That's hurtful. You know the progress that we've made—especially my generation—to see the Barbour machine and these PACs do what they did in this election spits in the face of the progress we've made," Watson said.
The campaign attorneys have filed writs of mandamus in 20 courts to compel each county to allow full access to poll books without cost. After facing hurdles during examination and rather than fighting the case in every county, McDaniel has taken his complaints to the Mississippi Supreme Court.
"We want the Supreme Court to rule, and we want the Supreme Court to say, 'Yes, the candidate has an unfettered right to see all of the election materials that were produced in the election,'" Tyner said.
Watson argued in Jackson County Tuesday and said, "It was a huge win." He also argued in Harrison County on Friday, and the judge upheld the required costs to review records, which prompted the Supreme Court challenge.
When it comes to illegal votes across the state, Tyner said, "We found a lot." He declined to say how many, however.
While he has heard of elections having illegal votes during his career, he said, "This is the first time I've seen it up close and personal."
Tyner said he is thankful for the circuit clerks in the state who have been helpful and acted transparently, adding that he will provide the public with the findings as soon as they are complete. He said the campaign plans to also give their findings to the U.S. attorney's office, the Federal Election Commission and Attorney General Jim Hood of Mississippi.
No one from the campaign explained why McDaniel was not in attendance. The McDaniel campaign expects to file a challenge within 10 days. They will release their final examination findings at that time, Tyner said.