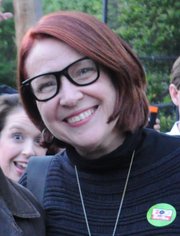 It was fun as always to watch entrepreneur and marketing whiz Jeff Good run around once again at Sunday night's Best of Jackson party looking so thrilled to be there to collect his and his businesses' multiple readers' choice awards. He personally won more than ever this year, including some big ones: Best Visionary, Best Local Business Owner and Best Urban Warrior.
In addition to the many dozens his restaurants have won over the years, his awards this year are the kinds that go to people who come up with big ideas and get engaged in the community. Jeff is a master of innovation, as well as using his personality, as well as social media and other marketing techniques to make sure people know about his businesses and his mission to help the city.
Like the rest of us, Jeff makes mistakes, and he won't hesitate to tell you that, for instance, he was wrong to help Frank Melton get elected mayor a while back. I have a vivid memory, in fact, of him yelling that to me across BRAVO! one night. Jeff's weakness was believing Melton's promises, and that is easy to forgive. He wasn't the only one.
At the risk of making Jeff blush—yes, it happens—I believe that his ability to admit he was wrong, or to not always expect to be deemed perfect, is a major strength. Being willing to risk criticism for the candidate he backs or because he decides to change a bar set-up at one of his restaurants makes him human and approachable.
It also makes him a success.
In fact, I knew just how genius Jeff was at marketing when I watched him several years back total up and list every Best of Jackson award his businesses had won and then market the total, not to mention cover business walls with every award—1st, 2nd, 3rd, good showing (which we now call "finalist"). He is smart enough to know that any award placement is a chance to market his businesses, and he never misses an opportunity. (This is something we do here as well; we are proud of every journalism award we've won, whether 1st or honorable mention.)
This remarkably successful businessman stands in contrast to a small number of people who get mad if they don't come in first—sometimes blaming the JFP because not enough of our readers voted for them. Some even grouse publicly, and every time I see that happen, I can almost see future votes for them floating out of their grasp. I seriously doubt that anyone who does that will ever enjoy the line-up of awards that Jeff's vocal, human, self-effacing and über-successful approach to life and business brings him.
Don't get me wrong: I get (sort of) if someone is bummed for not placing or winning first place. But my wish for Jackson is that more of them would follow Jeff's lead and market the heck out of their positives: thinking large, not small.
If you want to be recognized (or paid) for something, then vow to do it better than anyone else out there—lean in to greatness, as I urged last issue—and then make sure that people know that you do it, or offer it. And for goodness sake, don't waste your time belly-aching; put that energy into doing and promoting (and pitching us stories!).
I believe that Mississippians aren't all that used to promoting ourselves and, due to both perceptions inside the state and outside it, we too often believe that we are lacking. That collective self-esteem issue can feed into mediocrity and, in the case of a few, public griping and hating on others who have figured out how to achieve a degree of success.
Instead, I think we should all do what Jeff does. We need to learn the basic business principle that the more we give to others, the more others will repay us in various ways—whether with their dollars, votes, recommendations or just an emotional hug at a Best of Jackson party, which Jeff gets all night long as he helps serve food samples to future voters as he regales them with love and attention. (Told you: marketing genius).
This is how it's done. Success takes grit, constant attention to our own habits and powerful human interactions. And it takes damn hard work and focus.
In his "vision" guest column last issue, Jeff talked about one of the problems that all local businesses face: a qualified workforce. I nodded as I read his words: "That means that in addition to teaching specific skills of a trade, we must teach more general skills of problem solving, project management, sequential planning, creative thinking, and collaboration that will develop an innovative, flexible and resilient workforce."
To me, that was one of the most visionary points of his column. The truth is that it takes more than talent (writing, musical, business, etc.) to be successful. And a major thing we all need to collaborate on is ensuring that our young (and older) workers are continually developing life skills to ensure continual growth throughout their lives.
And let's be blunt: Complaining is seldom creative. If you're hating on somebody else's success (regardless of what you think of them), then you're killing some chance for collaboration with every word. Not to mention, you'll end up with a lot of problems on your hands if you lose assignments and can't keep a job because you're known for negativity rather than being innovative and present or for not being nimble enough to grow and learn throughout your working life.
I've been thinking about this since I witnessed a divided debate after an infamous Dave Ramsey post that (inelegantly) pointed out habits that many "rich" people have that "poor" don't. Honestly, I saw good points made on both sides of the angry debate that followed. And I am completely in on the point that poor people are too busy working to always engage in successful habits.
But as a woman raised by an illiterate factory worker, I couldn't help but be offended by the notion that poor people cannot read to their children more (although my mother couldn't), walk for health (my mother went to the park), make goals or to-do lists (she made goals for me, and I did the lists), network with people who can help (we did, and they became mentors), and so on.
Obviously, poor people can do these kinds of things, and many of them do—to better themselves and their children. And we all may struggle to improve bad habits (like watching too much dumb TV), but it is possible and necessary to be successful.
Another one struck me, though: Poor people, the list said, are more like to "say what's on their mind."
At first glance, that confused me; don't we want people to speak up? But then I got it, helped along by some of the recent grousing about others' success I've witnessed.
We don't succeed, or impress others, when we have no filters on our own negativity and gossip. We become great, and win awards and influence people, when we set out to build others up, not tear them down.
That is, when we do what Jeff does.
More like this story