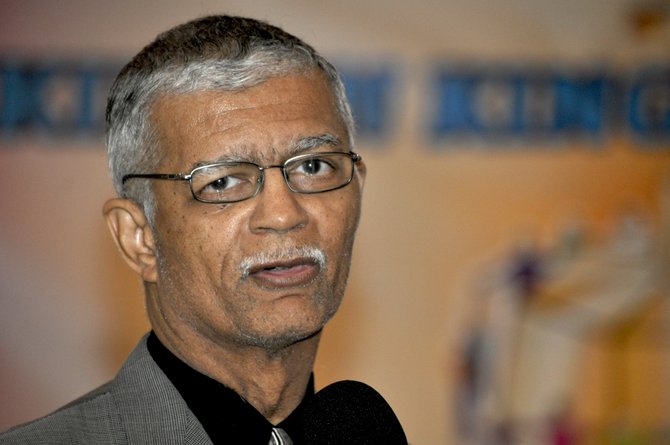 Following are statements on Mayor Chokwe Lumumba's death, reprinted verbatim:
Greater Jackson Partnership President Duane O'Neill
"Not only did we work hand-in-hand and very diligently on the referendum for infrastructure, but also economic development projects, airlines and legislative agendas. We seemed to have had a relationship, which was a excellent relationship, that was caused by him reaching out and working with everybody. It's just a sad day, a shock. He went from a councilman that I barely knew to someone who I really respected and considered a good friend."
Statement of Ben Allen, President, Downtown Jackson Partners
"I have never met a person like Chokwe. So much theory and presumption but so little knowledge about him before he was elected. I was guilty. I respect him and enjoyed his passion for All of Jackson and his friendship in his short time as mayor. We will miss his kind presence and spirit."
Hinds County Sheriff Tyrone Lewis
"Jackson has lost a giant in public service today. On behalf of the men and women of the Hinds County Sheriff's Office I want to express my sincere condolences to the family of Mayor Chowke Lumumba.
"Lumumba was a man among many. He was a giant in the arenas of community service, legal representation and youth development. I am personally saddened by this unexpected tragedy, as Lumumba was very instrumental in my being elected as Sheriff of Hinds County. Lumumba, unlike other public and elected officials was not afraid to campaign with me while he was a sitting elected official. I'm grateful for the many lessons he shared with me along the way. The Hinds County Sheriff's Office stands ready to assist the Lumumba family and the city of Jackson during this time of bereavement and transition."
Mississippi Gov. Phil Bryant
"Deborah and I are shocked and saddened by the news of Mayor Lumumba's passing and are praying for his loved ones. Just a short time ago, I had the opportunity to join the mayor in a church pew as we welcomed a new development to the city. His enthusiasm for Jackson will be deeply missed."
Attorney General Jim Hood
"Our hearts are heavy upon learning of the death of Jackson Mayor Chokwe Lumumba. He will be remembered as a leader who sought solutions to bring people together and make positive change. Sending prayers to his family, friends, and citizens of Jackson. RIP Mayor Lumumba, and may your legacy of unified progress continue."
Statement of Brandon Jones, Mississippi Democratic Trust
"Tonight, we've lost a great friend. Mayor Chokwe Lumumba, the Mayor of Jackson, has died of heart failure. Mayor Lumumba was a man of true conviction and a powerful change agent for the City of Jackson and the State of Mississippi. I was moved by his compassion and impressed by what he was able to accomplish in his short time as Jackson's mayor. Please join me in praying for Mayor Lumumba's friends, family, and the great City of Jackson."
---
Statement of House Democratic Caucus Leader Bobby Moak (D-Bogue Chitto) on the passing of Mayor Chokwe Lumumba:
"My colleagues and I were saddened to learn of the sudden death of Mayor Chokwe Lumumba. The Mayor and his administration had embarked on a strong and courageous plan of progressive action for the City of Jackson. Mayor Lumumba's quiet yet forceful leadership will be missed.
"Our thoughts, prayers, and sincere condolences go out to Mayor Lumumba's family, friends, and the citizens of our capital city."
Sen. Thad Cochran
"My thoughts and prayers are with Mayor Lumumba's family and friends, and the City of Jackson."
U.S. Congressman Bennie Thompson
"I am deeply saddened by the death of my friend, Mayor Chokwe Lumumba. My condolences to his family and the City of Jackson."
Councilman Melvin Priester Jr.
"Words cannot express how deeply saddened I am by the death of Mayor Chokwe Lumumba. My thoughts and prayers are with his family during this trying time. The passing of Mayor Lumumba not only represents a great loss for the city of Jackson, but for the state of Mississippi and our great nation. A man whose work touched the lives of countless individuals, Mayor Lumumba dedicated his life to ensuring that every human being had the opportunity to build a better future for themselves and those they cared about. And while many had the chance to come to know Mayor Lumumba through his work as a social activist, and political leader, I had the honor of knowing Mayor Lumumba as neighbor, a mentor, and a friend. Chokwe Lumumba was a man of courage. And even when all odds were seemingly against him, he had the courage to believe in the promise of Jackson Mississippi. Rest in peace to our Mayor, our Mentor, our Friend, Chokwe Lumumba."
Ben Jealous, civil rights activist
"Chokwe Lumumba was one of the greatest civil rights lawyers of our time. In the tradition of Thurgood Marshall and Clarence Darrow, he was steadfast in his determination to defend the rights of those who the system too often pretends have none. I have worked with Chokwe to free wrongly incarcerated people since I was 21 years old, most recently the Scott Sisters. He was a giant. He will be sorely missed."
Read many more comments about Mayor Lumumba on this special Storify we set up.
More like this story
More stories by this author
Like independent media outlets around the world, the Jackson Free Press works hard to produce important content on a limited budget. We'd love your help! Become a JFP VIP member today and/or donate to our journalism fund. Thanks for considering a JFP VIP membership or one-time support.