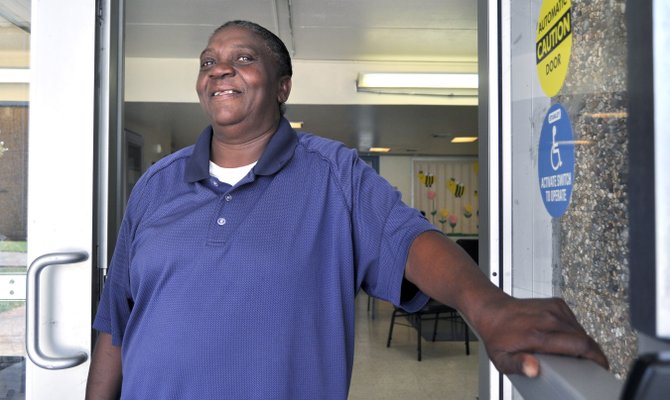 Annie L. Figures, who shined a light on ongoing problems at her apartment complex to the Jackson City Council and the Jackson Free Press, says she is facing eviction.
In addition to the threat of having to leave the Golden Key Apartments, which the Jackson Housing Authority operates and where Figures has lived for 12 years, she says many of the maintenance and management problems she complained about remain.
For a story published May 14, Figures told the JFP that the Golden Key's common area and several apartment units were experiencing leaks that produced mold and mildew behind the walls and around the heating and cooling vents. Since then, Figures says, maintenance crews have replaced some moldy portions of drywall.
Sheila Jackson, executive director of the housing authority, which owns and manages properties for the low-income residents, told the JFP that she could not speak at length about Figures' claims because of ongoing litigation but says Figures' claims about the poor conditions of the building are invalid.
"It's an old property, but it's well-maintained," Jackson said this week, adding that the authority is awaiting approval from the U.S. Department of Housing and Urban Development to make $6 million in repairs at the Golden Key.
Figures has twice received eviction notices since April; both stated that she violated the housing complex's rental agreement. Figures appealed the evictions to Hinds County Court, where a hearing took place on June 10. Figures represented herself; Jackson-based firm Baker Donelson represented JHA.
"All the big folks were at court," Figures said of JHA officials, including Executive Director Sheila Jackson, who said that JHA contracts with the firm for legal services.
In court, where Judge Melvin Priester, Sr. presided, JHA's attorney Marlena Pickering questioned Vance about an argument that took place last winter when Figures, according to a court transcript, told Vance and another man that if Figures had her gun, she would blow their brains out. Figures denies making the statement. In court, Vance later testified that she did not believe the threat to be credible nor did she fear for her safety.
Vance also said she declined to call the police or alert the property manager, Theo Davis. Months later, Vance told Davis that her life was in danger as a result of the altercation with Figures.
Figures believes Davis is using the incident as a pretense for retaliation. Figures recently furnished photos of what she says is mold growing on walls and HVAC vents that have gone unaddressed. In the back of the building, sewage appears to be backing up and flooding.
Residents are also frustrated because JHA managers keep residents in the dark about the progress of repairs and other issues. Conversations with several residents indicate that although they realize the apartment has rules, managers keep information close to the vest. Annie Figures said her constant questioning of management is what has made her a persona non grata.
"They treat us like little kids," said Pruid Dickson, Figures' friend, who also lives in the apartments and has also complained about the conditions in the building.
Lucas Williams echoes those sentiments. Williams, a disabled veteran, was told that he violated the lease by having a friend, who also helps take care of him, stay over a few nights a week. After management let themselves into his apartment, which the lease permits, Williams said he left the complex due to "harassment," but continues paying rent there each month.
"They should have come to talk to me like a human being," Williams told the Jackson Free Press.
Figures has again appealed her eviction, but said no hearing has been scheduled. In recent weeks, she has also appeared on two local radio stations to discuss her case. Figures does not want to leave the Golden Key because she believes the tenants deserve a watchdog.
Besides, she said: "I don't have money to just up and move because they said move. I'm not moving based on what I've been accused of."
More like this story
More stories by this author
Like independent media outlets around the world, the Jackson Free Press works hard to produce important content on a limited budget. We'd love your help! Become a JFP VIP member today and/or donate to our journalism fund. Thanks for considering a JFP VIP membership or one-time support.